Anti-Smad4 (DPC4) Monoclonal Antibody (Clone: DCS-46)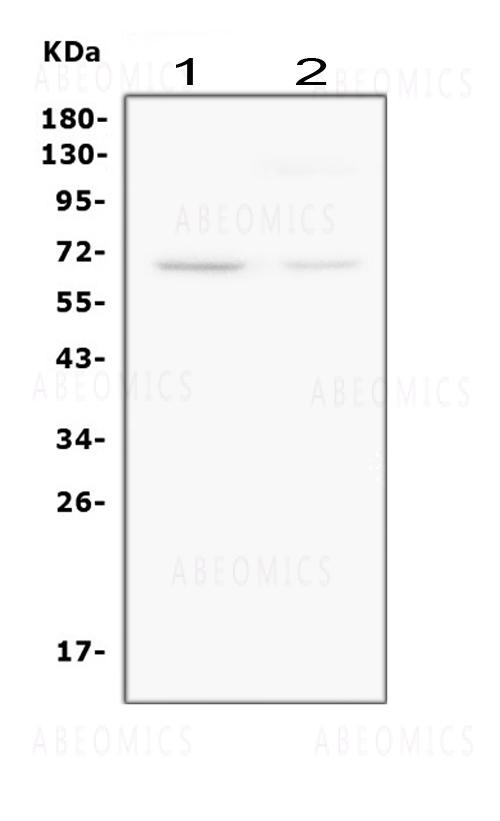 Figure 1. Western blot analysis of SMAD4 using anti-SMAD4 antibody. Electrophoresis was performed on a 5-20% SDS-PAGE gel at 70V (Stacking gel) / 90V (Resolving gel) for 2-3 hours. The sample well of each lane was loaded with 50 µg of sample under reducing conditions. Lane 1: rat C6 whole cell lysate, Lane 2: mouse Neuro-2a whole cell lysate.
Roll over image to zoom in
---
| | |
| --- | --- |
| Amount : | 100 μg/vial |
| Isotype : | Mouse IgG1 |
| Purification : | Ascites |
| Content : | Mouse ascites fluid, 1.2% sodium acetate, 2mg BSA, with 0.01mg NaN3 as preservative. Reconstitute : Add 1ml of PBS buffer will yield a concentration of 100ug/ml. |
| Storage condition : | At -20˚C for one year. After reconstitution, at 4˚C for one month. It can also be aliquotted and stored frozen at -20˚C for a longer time. Avoid repeated freezing and thawing. |
SMAD4 plays a pivotal role in signal transduction of the transforming growth factor beta superfamily cytokines by mediating transcriptional activation of target genes. Smad4 signalling in T cells is required for suppression of gastrointestinal cancer. Mutational inactivation of SMAD4 causes TGF-beta unresponsiveness and gave a basis for understanding the physiologic role of this gene in tumorigenesis. Mutations in DPC4(SMAD4) cause juvenile polyposis syndrome, but only account for a minority of cases.
Western blot : 2-4μg/ml; Immunocytochemistry : 1μg/ml
For Research Use Only. Not for use in diagnostic/therapeutics procedures.
| | |
| --- | --- |
| Subcellular location: | Cytoplasm, Nucleus |
| Post transnational modification: | Monoubiquitinated on Lys-519 by E3 ubiquitin-protein ligase TRIM33. Monoubiquitination hampers its ability to form a stable complex with activated SMAD2/3 resulting in inhibition of TGF-beta/BMP signaling cascade. Deubiquitination by USP9X restores its competence to mediate TGF-beta signaling (By similarity). |
There are currently no product reviews
---
Customers who purchased this product also purchased