Mouse Monoclonal Antibody to Human PD-L1 (Clone : PDL1.A6)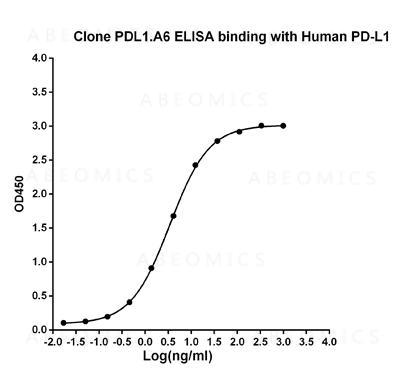 Figure-1 : ELISA binding of human PD-L1 antibody (Clone: PDL1.A6) with Human PD-L1 recombinant protein. Coating antigen: PD-L1-Fc at 1µg/ml. PD-L1 antibody dilution start from 1000 ng/ml, EC50= 3.4ng/ml
Roll over image to zoom in
---
| | |
| --- | --- |
| Format : | Purified |
| Amount : | 40 µg |
| Isotype : | Mouse IgG1, Kappa |
| Purification : | Protein A chromatography |
| Content : | 0.5 mg/ml, lyophilized with PBS, pH 7.4, containing 0.02% sodium azide. |
| Storage condition : | The antibody is stable in lyophilized form if stored at -20°C or below. The reconstituted antibody can be stored for 2-3 weeks at 2-8°C. For long term storage, aliquot and store at -20°C or below. Avoid repeated freezing and thawing cycles. |
Programmed cell death 1 ligand 1 is one of the two ligands of PD-1. PD-L1 is expressed on macrophages, T cells, B cells, NK cells, DCs and some cancer cell surface. Binding of PD-1 with PD-L1 could result in down-regulation of the immune system by inhibiting the T-cell activation process. Thus, PD-L1 is an important immune checkpoint and popular target for therapeutic antibodies against many cancers. Anti-Human PD-L1 Antibody (PDL1.A6), mAb, Mouse is produced from the hybridoma resulting from fusion of SP2/0 myeloma and B-lymphocytes obtained from mouse immunized with recombinant human PD-L1-Fc.
ELISA detection: 0.01-0.1 µg/ml
ELISA blocking: 10-15 µg/ml
Flow cytometry: 5-7 µg/ml
Blockade of Receptor-ligand Interaction in Flow cytometry: 5-7 µg/ml
For Research Use Only. Not for use in diagnostic/therapeutics procedures.
| | |
| --- | --- |
| Subcellular location: | Membrane |
| BioGrid: | 111160. 61 interactions. |
There are currently no product reviews
---
Customers who purchased this product also purchased