Polyclonal Antibody to Ubiquitin C-terminal hydrolase 1 , UCHL1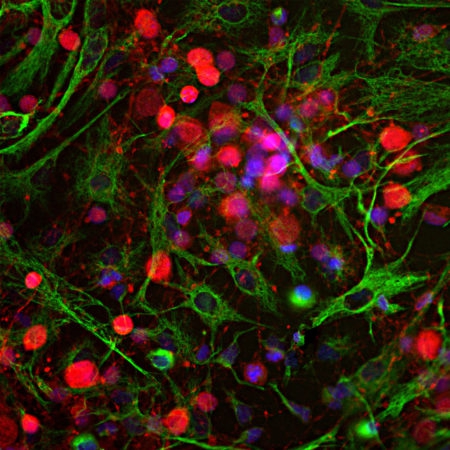 Figure 1: Rat mixed neuron/glial cultures stained with chicken UCHL1 (green) and 34-1042 , rabbit antibody to glial fibrillary acidic protein (GFAP-red). Blue is a DNA stain. Note that the UCHL1 stains neurons strongly and specifically, and that the staining is concentrated in the cell bodies, though some does extend into the dendrites also.
Roll over image to zoom in
---
| | |
| --- | --- |
| Content : | Antibody is supplied as an aliquot of concentrated IgY prep. |
| Storage condition : | Store the antibody at 4°C; stable for 6 months. For long-term storage; store at -20°C. Avoid repeated freeze and thaw cycles. |
Western blot: 1:10,000. ICC/IF and IHC: 1:1,000.
For Research Use Only. Not for use in diagnostic/therapeutics procedures.
| | |
| --- | --- |
| Subcellular location: | Cytoplasm, Endoplasmic reticulum membrane |
| Post transnational modification: | O-glycosylated. |
| Tissue Specificity: | Found in neuronal cell bodies and processes throughout the neocortex (at protein level). Expressed in neurons and cells of the diffuse neuroendocrine system and their tumors. Weakly expressed in ovary. Down-regulated in brains from Parkinson disease and Alzheimer disease patients. |
| BioGrid: | 113192. 58 interactions. |
There are currently no product reviews
---
Customers who purchased this product also purchased