Anti-BCMA antibody(DM4), Rabbit mAb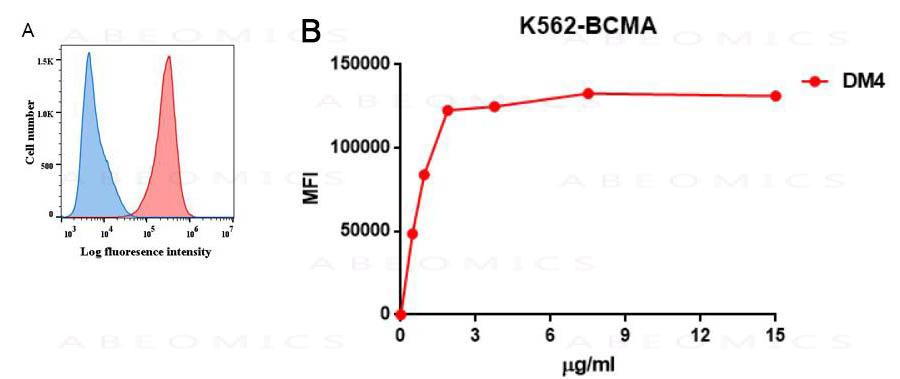 Figure 1. A. FACS analysis with anti-BCMA (DM4) on K562-BCMA (Red histogram) (K562 cells stably transduced by human BCMA full length gene) and K562 (Negative control cell line) (Blue histogram). B. FACS data of serially titrated anti-BCMA (DM4). The Y-axis represents the mean fluorescence intensity (MFI) while the X-axis represents the concentration of IgG used.
Roll over image to zoom in
---
Amount :
100 µg
Isotype :
IgG
Purification :
Purified from cell culture supernatant by affinity chromatography
Content :
Preservative: 0.1% Procline 300
Constituents: 50% Glycerol; PBS, pH 7.4; 0.1% BSA
Not Sterile
Storage condition :
Store at -80°C for 12 months (Avoid repeated freezing and thawing)
| | |
| --- | --- |
| | |
| Alternative Name : | TNFRSF17, CD269, BCM, BCMA |
| Immunogen Information : | Recombinant human BCMA (Met1-Ala54) produced by using human HEK293 cells |
The protein encoded by this gene is a member of the TNF-receptor superfamily. This receptor is preferentially expressed in mature B lymphocytes, and may be important for B cell development and autoimmune response. This receptor has been shown to specifically bind to the tumor necrosis factor (ligand) superfamily, member 13b (TNFSF13B/TALL-1/BAFF), and to lead to NF-kappaB and MAPK8/JNK activation. This receptor also binds to various TRAF family members, and thus may transduce signals for cell survival and proliferation.
Recommended Dilutions FACS 1/100; IP 1/30
For Research Use Only. Not for use in diagnostic/therapeutics procedures.
There are currently no product reviews
---
Customers who purchased this product also purchased