Anti-Calpastatin Monoclonal Antibody(Clone: CAST/1550)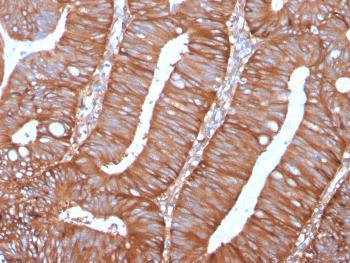 Fig. 1: Formalin-fixed, paraffin-embedded human Colon Carcinoma stained with Calpastatin Mouse Monoclonal Antibody (CAST/1550).
Roll over image to zoom in
---
| | |
| --- | --- |
| Amount : | 100 µg |
| Isotype : | Mouse IgG1, kappa |
| Content : | 200 µg/ml of Ab Purified from Bioreactor Concentrate by Protein A/G. Prepared in 10mM PBS with 0.05% BSA & 0.05% azide. Also available WITHOUT BSA & azide at 1.0mg/ml. |
| Storage condition : | Antibody with azide - store at 2 to 8°C. Antibody without azide - store at -20 to -80°C. Antibody is stable for 24 months. Non-hazardous. |
Calpastatin is an intracellular calcium-dependent protease that cleaves cytoskeletal and sub-membranous proteins. Calpains are non-lysosomal, calcium-activated intracellular cysteine proteases. Calpains mediate specific Ca2+- dependent processes including cell fusion, mitosis and meiosis. Calpains are heterodimers of a small regulatory subunit and one of three large catalytic subunits, designated Calpastatin, Calpain 2 and Calpain p94. Calpastatin regulates Calpain by inhibiting both the proteolytic activity of Calpain and its binding to membranes. Calpastatin exists in two types, tissue type and erythrocyte type, resulting from both alternative splicing and proteolytic processing. Calpastatin co-localizes with human leukocyte antigen-DR (HLA-DR) on activated microglia in the aging brain. Calpain influences the process of spermatogenesis and the events preceding fertilization, such as the acrosome reaction.
ELISA (Use Ab at 2-4µg/ml for coating) (Order Ab without BSA); Immunohistochemistry (Formalin-fixed) (1-2µg/ml for 30 minutes at RT)(Staining of formalin-fixed tissues requires boiling tissue sections in 10mM citrate buffer, pH 6.0, for 10-20 min followed by cooling at RT for 20 minutes)Optimal dilution for a specific application should be determined.
For Research Use Only. Not for use in diagnostic/therapeutics procedures.
There are currently no product reviews
---
Customers who purchased this product also purchased