Anti-CD19 (B-Lymphocyte Marker) Monoclonal Antibody(Clone: CD19/3116)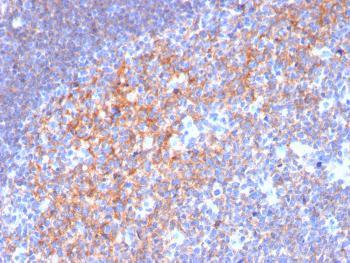 Fig. 1: Formalin-fixed, paraffin-embedded human Tonsil stained with CD19 Monospecific Mouse Monoclonal Antibody (CD19/3116).
Roll over image to zoom in
---
| | |
| --- | --- |
| | |
| Gene : | CD19 |
| Gene ID : | 930 |
| Uniprot ID : | P15391 |
| Alternative Name : | B-lymphocyte antigen CD19; B-lymphocyte surface antigen B4; CVID3; Leu-12; T-cell surface antigen Leu-12 |
| Amount : | 100 µg |
| Isotype : | Mouse IgG1, kappa |
| Immunogen Information : | Recombinant fragment of human CD19 protein (around aa96-281) (exact sequence is proprietary) |
CD19 is a transmembrane glycoprotein that contains two extracellular immunoglobulin-like domains. CD19 is present in both benign and malignant B-cells and is considered to be the most reliable surface marker of this lineage over a wide range of maturational stages. In normal lymphoid tissue, CD19 is observed in germinal centers, in mantle zone cells, and in scattered cells of the inter-follicular areas. Anti-CD19 exhibits an overall immunoreactivity pattern similar to those of the antibodies against CD20 and CD22. However, in contrast to CD20, expression of CD19 is continuous throµghout B-cell development and throµgh terminal differentiation of B-cells into plasma cells. Anti-CD19 positivity is seen in the vast majority of B-cell neoplasms commonly at a lower intensity than normal B-cell counterparts. Plasma cell neoplasms are nearly always negative, as are T-cell neoplasms.
| | |
| --- | --- |
| Content : | 200 µg/ml of Ab Purified from Bioreactor Concentrate by Protein A/G. Prepared in 10mM PBS with 0.05% BSA & 0.05% azide. Also available WITHOUT BSA & azide at 1.0mg/ml. |
| Storage condition : | Antibody with azide - store at 2 to 8°C. Antibody without azide - store at -20 to -80°C. Antibody is stable for 24 months. Non-hazardous. |
ELISA (For coating, order antibody without BSA); ,Flow Cytometry (1-2µg/million cells); ,Immunohistochemistry (Formalin-fixed) (1-2µg/ml for 30 minutes at RT),(Staining of formalin-fixed tissues requires boiling tissue sections in 10mM citrate buffer, pH 6.0, for 10-20 min followed by cooling at RT for 20 minutes),Optimal dilution for a specific application should be determined.
For Research Use Only. Not for use in diagnostic/therapeutics procedures.
There are currently no product reviews
---
Customers who purchased this product also purchased