Anti-CD73 (Immuno-Oncology Target) Monoclonal Antibody(Clone: NT5E/2503)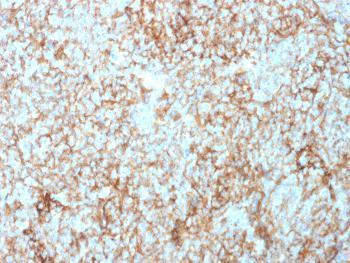 Fig. 1: Formalin-fixed, paraffin-embedded human Tonsil stained with CD73 Mouse Monoclonal Antibody (NT5E/2503).
Roll over image to zoom in
---
| | |
| --- | --- |
| Amount : | 100 µg |
| Isotype : | Mouse IgG1, kappa |
| Content : | 200 µg/ml of Ab Purified from Bioreactor Concentrate by Protein A/G. Prepared in 10mM PBS with 0.05% BSA & 0.05% azide. Also available WITHOUT BSA & azide at 1.0mg/ml. |
| Storage condition : | Antibody with azide - store at 2 to 8°C. Antibody without azide - store at -20 to -80°C. Antibody is stable for 24 months. Non-hazardous. |
| | |
| --- | --- |
| | |
| Gene : | NT5E |
| Gene ID : | 4907 |
| Uniprot ID : | P21589 |
| Alternative Name : | 5' NT; 5' nucleotidase (CD73); 5' nucleotidase precursor; 5' nucleotidase, ecto; 5' nucleotidase, ecto (CD73); 5'-NT; 5'-nucleotidase; 5NTD_HUMAN; CD73; CD73 antigen; E5NT; Ecto 5' nucleotidase; Ecto-5'-nucleotidase; eN; eNT; NT; NT5; NT5E; NTE; Purine 5 Prime Nucleotidase |
| Immunogen Information : | Recombinant full length human NT5E protein |
CD73 (also designated ecto-5'-nucleotidase, E5NT, NT, NT5, NTE, eN and eNT) is a glycosyl-phosphatidylinositol (GPI)-anchored adhesion protein that catalyzes the dephosphorylation of extracellular purine and pyrimidine nucleotides to their corresponding bioactive nucleosides. CD73 is a dimer of two identical subunits that depends on GPI to link with the external face of the plasma membrane. Similar to other GPI-anchored proteins, CD73 mediates co-stimulatory signals in T cell activation. CD73 has few structural variants, yet elicits diverse biological function throµgh differential regulation in endothelial cells (EC), subpopulations of B and T cells, germinal center follicular dendritic cells and on thymic medullary reticular fibroblasts. For example, IgG mediated neutralization of CD73 interferes with lymphocyte adhesion to EC, and blocks aggregation of germinal center B cells and follicular dendritic cells. Furthermore, IgG-mediated targeting of lymphocyte CD73, but not of endothelial cell CD73, causes shedding of CD73 and tyrosine phosphorylation of proteins.
Western Blot (1-2µg/ml); Flow Cytometry (1-2µg/million cells); Immunofluorescence (1-2µg/ml); Immunohistochemistry (Formalin-fixed) (1-2µg/ml for 30 min at RT)(Staining of formalin-fixed tissues requires boiling tissue sections in 10mM Tris with 1mM EDTA, pH 9.0, for 10-20 min followed by cooling at RT for 20 minutes)Optimal dilution for a specific application should be determined.
For Research Use Only. Not for use in diagnostic/therapeutics procedures.
There are currently no product reviews
---
Customers who purchased this product also purchased