Anti-CD86 (Dendritic Cells Maturation Marker) Monoclonal Antibody(Clone: BU63)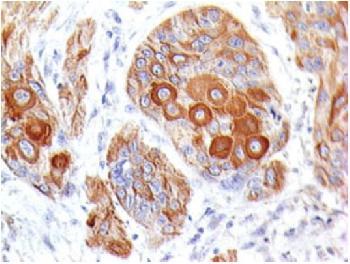 Fig. 1: Formalin-fixed, paraffin-embedded human Esophageal Tumor stained with CD86 Mouse Monoclonal Antibody (BU63).
Roll over image to zoom in
---
| | |
| --- | --- |
| Amount : | 100 µg |
| Isotype : | Mouse IgG1, kappa |
| Content : | 200 µg/ml of Ab Purified from Bioreactor Concentrate by Protein A/G. Prepared in 10mM PBS with 0.05% BSA & 0.05% azide. Also available WITHOUT BSA & azide at 1.0mg/ml. |
| Storage condition : | Antibody with azide - store at 2 to 8°C. Antibody without azide - store at -20 to -80°C. Antibody is stable for 24 months. Non-hazardous. |
| | |
| --- | --- |
| | |
| Gene : | CD86 |
| Gene ID : | 942 |
| Uniprot ID : | P42081 |
| Alternative Name : | Activation B7-2 antigen; B lymphocyte activation antigen B72; CD28 antigen ligand 2; CD28LG2; CLS1; CTLA-4 counter-receptor B7.2; Early T-cell co-stimulatory molecule 1; ETC-1; FUN-1; LAB72; Ly-58; MB7-2; TS/A-2 |
| Immunogen Information : | ARH-77 (B-lymphoblastoid cell line) |
Recognizes a protein of 70kDa, which is identified as CD86 (HLDA V; WS Code BP BP072. HLDA V; WS Code A A109. HLDA VI; WS Code BP 95. HLDA VI; WS Code B CD86.9). CD86 is a type I transmembrane glycoprotein and a member of the immunoglobulin superfamily of cell surface receptors. It is expressed at high levels on resting peripheral monocytes and dendritic cells and at very low density on resting B and T lymphocytes. CD86 expression is rapidly upregulated by B cell specific stimuli with peak expression at 18 to 42 hours after stimulation. CD86, along with CD80/B71, is an important accessory molecule in T cell co-stimulation via its interaction with CD28 and CD152/CTLA4. Since CD86 has rapid kinetics of induction, it is believed to be the major CD28 ligand expressed early in the immune response. It is also found on malignant Hodgkin and Reed Sternberg (HRS) cells in Hodgkin's disease.
Functional Studies (Order Ab without Azide);Flow Cytometry (1-2µg/million cells); Immunofluorescence (1-2µg/ml); Immunohistochemistry (Formalin-fixed) (2-4µg/ml for 30 minutes at RT)(Staining of formalin-fixed tissues requires boiling tissue sections in 10mM Tris buffer with 1mM EDTA, pH 9.0, for 10-20 min followed by cooling at RT for 20 minutes)Optimal dilution for a specific application should be determined.
For Research Use Only. Not for use in diagnostic/therapeutics procedures.
There are currently no product reviews
---
Customers who purchased this product also purchased