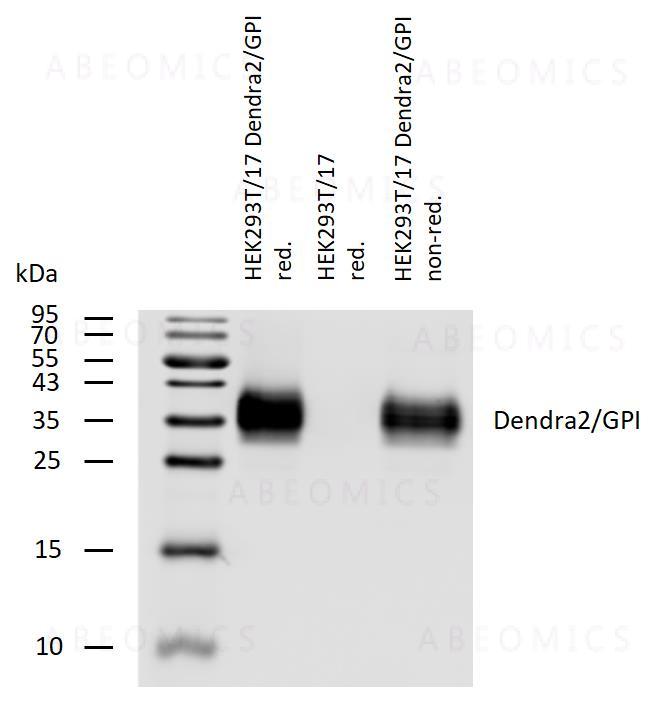 Figure-1: Western blotting analysis of Dendra2/GPI fusion protein using rabbit polyclonal antibody PAb (30-2533) on lysates of HEK293T/17 cells transfected with Dendra2/GPI construct; reducing and non-reducing conditions. Nitrocellulose membrane was probed with 2 µg/ml of anti-Dendra2 rabbit polyclonal antibody followed by IRDye800-conjugated anti-rabbit secondary antibody. A specific band was detected for Dendra2/GPI fusion protein at approximately 35 kDa.
Roll over image to zoom in
---
Format :
Purified
Amount :
0.1 mg
Isotype :
Rabbit polyclonal
Purification :
Purified by protein-A affinity chromatography
Content :
1 mg/ml
Formulation : Phosphate buffered saline (PBS) solution with 15 mM sodium azide
Storage condition :
Store at 2-8°C. Do not freeze.
| | |
| --- | --- |
| | |
| Alternative Name : | Dendra2 tag |
| Immunogen Information : | Dendra2 tag |
Dendra2 is an improved version of green-to-red photoswitchable protein Dendra, and compared to it, Dendra2 exhibits brighter fluorescence before and after photoswitching. Excitation maximum of Dendra 2 is 490 nm before and 553 nm after photoactivation, and its emission maximum is 507 nm before and 573 nm after photoactivation. Activating light for Dendra2 is UV/violet to blue. Nonactivated Dendra2 spectral characteristics are similar to EGFP, and this green fluorescence can be detected at low light intensities of blue light. At hight intensities of the same blue light (or of UV/violet light) Dendra2 is photoactivated and gets emission characteristics similar to TRITC.
Specificity : The rabbit polyclonal antibody PAb (836) recognizes Dendra2 tag, a green-to red photoswitchable protein derived from an octocoral (Dendronephthya).
There are currently no product reviews
---
Customers who purchased this product also purchased