Anti-Moesin Monoclonal Antibody(Clone: MSN/491)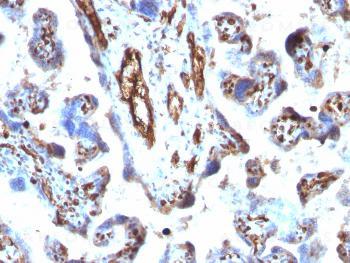 Fig. 1: Formalin-fixed, paraffin-embedded human Placenta stained with Moesin Mouse Monoclonal Antibody (MSN/491).
Roll over image to zoom in
---
| | |
| --- | --- |
| Amount : | 100 µg |
| Isotype : | Mouse IgG1, kappa |
| Content : | 200 µg/ml of Ab Purified from Bioreactor Concentrate by Protein A/G. Prepared in 10mM PBS with 0.05% BSA & 0.05% azide. Also available WITHOUT BSA & azide at 1.0mg/ml. |
| Storage condition : | Antibody with azide - store at 2 to 8°C. Antibody without azide - store at -20 to -80°C. Antibody is stable for 24 months. Non-hazardous. |
Recognizes 78kDa moesin protein. Moesin, a member of the talin-4.1 superfamily, is a linking protein of the sub-membranous actin cytoskeleton. It is expressed in variable amounts in cells of different phenotypes such as macrophages, lymphocytes, fibroblastic, endothelial, epithelial, and neuronal cell lines but not in blood cells. The ERM proteins, ezrin, radixin, and moesin are involved in a variety of cellular functions, such as cell adhesion, migration, and the organization of cell surface structures, and are highly homologous, both in protein sequence and in functional activity, with merlin/schwannomin, a neurofibromatosis-2-associated tumor-suppressor protein. Cell lines of epithelial and mesothelial origin contain both moesin and radixin whereas cells of endothelial and lymphoid origin express moesin.
Flow Cytometry (1-2µg/million cells); Immunofluorescence (2-4µg/ml); Western Blot (1-2µg/ml); Immunohistochemistry (Formalin-fixed) (1-2µg/ml for 30 minutes at RT)(Staining of formalin-fixed tissues requires boiling tissue sections in 10mM citrate buffer, pH 6.0, for 10-20 min followed by cooling at RT for 20 minutes)Optimal dilution for a specific application should be determined.
For Research Use Only. Not for use in diagnostic/therapeutics procedures.
There are currently no product reviews
---
Customers who purchased this product also purchased