Anti-Nucleophosmin (Acute Myeloid Leukemia Marker) Monoclonal Antibody(Clone: NPM1/3286)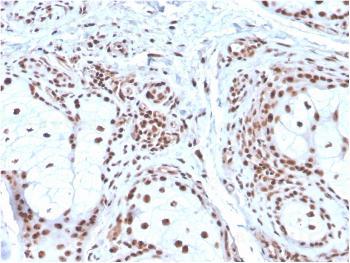 Fig. 1: Formalin-fixed, paraffin-embedded human Basal Cell Carcinoma stained with Nucleophosmin Mouse Monoclonal Antibody (NPM1/3286).
Roll over image to zoom in
---
| | |
| --- | --- |
| Amount : | 100 µg |
| Isotype : | Mouse IgG1, kappa |
| Content : | 200 µg/ml of Ab Purified from Bioreactor Concentrate by Protein A/G. Prepared in 10mM PBS with 0.05% BSA & 0.05% azide. Also available WITHOUT BSA & azide at 1.0mg/ml. |
| Storage condition : | Antibody with azide - store at 2 to 8°C. Antibody without azide - store at -20 to -80°C. Antibody is stable for 24 months. Non-hazardous. |
| | |
| --- | --- |
| | |
| Gene : | NPM1 |
| Gene ID : | 4869 |
| Uniprot ID : | P06748 |
| Alternative Name : | NO38; NPM; NPM1; Nucleolar phosphoprotein B23; Nucleolar protein NO38; Nucleophosmin (nucleolar phosphoprotein B23 numatrin); Nucleophosmin; Nucleophosmin/nucleoplasmin family member 1; Numatrin |
| Immunogen Information : | Recombinant human NPM1 protein fragment (aa185-287) (exact sequence is proprietary) |
Recognizes a 33kDa glycoprotein, identified as Nucleophosmin (NPM). It is predominantly localized in the nucleus of cells in most tissues. NPM is involved in ribosomal assembly and rRNA transport. It is an abundant protein that is highly phosphorylated by Cdc2 kinase during mitosis. This phosphoprotein moves between the nucleus and the cytoplasm. It is thoµght to be involved in several processes including regulation of the ARF/p53 pathway. A number of genes are fusion partners, in particular the anaplastic lymphoma kinase gene on chromosome 2. Mutations in exon 12 affecting the C-terminus of the protein are associated with an aberrant cytoplasmic location. Mutations in this gene are associated with acute myeloid leukemia. The antibody may be a useful aid for classification of acute myeloid leukemia.
Immunofluorescence (1-2µg/ml); ELISA (Use Ab at 2-4µg/ml for coating) (Order Ab without BSA); Western Blot (1-2µg/ml); Immunohistochemistry (Formalin-fixed) (1-2µg/ml for 30 min at RT) (Staining of formalin-fixed tissues requires boiling tissue sections in 10mM Citrate Buffer, pH 6.0, for 10-20 min followed by cooling at RT for 20 minutes) Optimal dilution for a specific application should be determined.
For Research Use Only. Not for use in diagnostic/therapeutics procedures.
There are currently no product reviews
---
Customers who purchased this product also purchased