Anti-p63 (Squamous, Basal & Myoepithelial Cell Marker) Monoclonal Antibody(Clone: TP63/2428)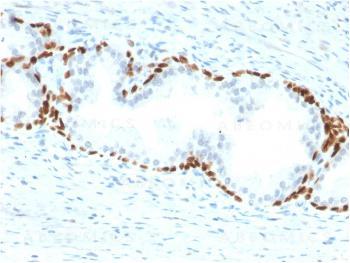 Fig. 1: Formalin-fixed, paraffin-embedded human Prostate Carcinoma stained with p63 Mouse Monoclonal Antibody (TP63/2428).
Roll over image to zoom in
---
| | |
| --- | --- |
| Amount : | 100 µg |
| Isotype : | Mouse IgG2b, kappa |
| Content : | 200 µg/ml of Ab Purified from Bioreactor Concentrate by Protein A/G. Prepared in 10mM PBS with 0.05% BSA & 0.05% azide. Also available WITHOUT BSA & azide at 1.0mg/ml. |
| Storage condition : | Antibody with azide - store at 2 to 8°C. Antibody without azide - store at -20 to -80°C. Antibody is stable for 24 months. Non-hazardous. |
| | |
| --- | --- |
| | |
| Gene : | TP63 |
| Gene ID : | 8626 |
| Uniprot ID : | Q9H3D4 |
| Alternative Name : | Amplified in squamous cell carcinoma (AIS); Chronic ulcerative stomatitis protein (CUSP); EEC3; Keratinocyte transcription factor KET; LMS; NBP; p40; P51/P63; p53 like transcription factor; p53-related protein p63; RHS; SHFM4; TAp63alpha; TP53CP; TP53L; TP63; TP73; TP73L; Transformation-related protein 63; Trp53rp1; Trp6;3; Tumor protein 63; Tumor protein p53-like; tumor protein p73-like |
| Immunogen Information : | Recombinant full-length human p63 protein |
p63 is a homolog of the tumor suppressor p53. It is identified in basal cells in the epithelial layers of a variety of tissues, including epidermis, cervix, urothelium, breast and prostate. p63 was detected in nuclei of the basal epithelium in normal prostate glands; however, it was not expressed in malignant tumors of the prostate. As a result, p63 has been reported as a useful marker for differentiating benign from malignant lesions in the prostate, particularly when used in combination with markers of high molecular weight cytokeratins and the prostate-specific marker AMACR (P504S). p63 has also been shown to be a sensitive marker for lung squamous cell carcinomas (SqCC), with a sensitivity of ~90%. Specificity for lung SqCC, vs. lung adenocarcinoma (LADC), is approximately 80%. In breast tissue, p63 has been identified in myoepithelial cells of normal ducts.
Immunohistochemistry (Formalin-fixed) (1-2µg/ml for 30 minutes at RT),(Staining of formalin-fixed tissues requires boiling tissue sections in 10mM citrate buffer, pH 6.0, for 10-20 min followed by cooling at RT for 20 minutes),Optimal dilution for a specific application should be determined.
For Research Use Only. Not for use in diagnostic/therapeutics procedures.
There are currently no product reviews
---
Customers who purchased this product also purchased