Anti-Sarcomeric Actinin Alpha 2 / ACTN2 Monoclonal Antibody(Clone: ACTN2/3291)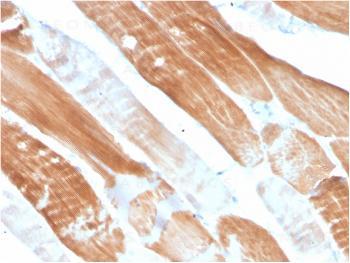 Fig. 1: Formalin-fixed, paraffin-embedded human Skeletal Muscle stained with Sarcomeric Actinin Alpha 2 Mouse Monoclonal Antibody (ACTN2/3291).
Roll over image to zoom in
---
| | |
| --- | --- |
| Amount : | 100 µg |
| Isotype : | Mouse IgG1, kappa |
| Content : | 200 µg/ml of Ab Purified from Bioreactor Concentrate by Protein A/G. Prepared in 10mM PBS with0.05% BSA & 0.05% azide. Also available WITHOUT BSA & azide at 1.0mg/ml. |
| Storage condition : | Antibody with azide - store at 2 to 8°C. Antibody without azide - store at -20 to -80°C. Antibody is stable for 24 months. Non-hazardous. |
Alpha actinins belong to the spectrin gene superfamily which represents a diverse group of cytoskeletal proteins, including the alpha and beta spectrins and dystrophins. Alpha actinin is an actin-binding protein with multiple roles in different cell types. In non-muscle cells, the cytoskeletal isoform is found along microfilament bundles and adherens-type junctions, where it is involved in binding actin to the membrane. In contrast, skeletal, cardiac, and smooth muscle isoforms are localized to the Z-disc and analogous dense bodies, where they help anchor the myofibrillar actin filaments. This gene encodes a muscle-specific, alpha actinin isoform that is expressed in both skeletal and cardiac muscles. Several transcript variants encoding different isoforms have been found for this gene.
Immunohistochemistry (Formalin-fixed) (1-2µg/ml for 30 minutes at RT),(Staining of formalin-fixed tissues requires boiling tissue sections in 10mM citrate buffer, pH 6.0, for 10-20 min followed by cooling at RT for 20 minutes),Optimal dilution for a specific application should be determined.
For Research Use Only. Not for use in diagnostic/therapeutics procedures.
There are currently no product reviews
---
Customers who purchased this product also purchased