Anti-Vinculin (Marker of Age-related Macular Degeneration) Monoclonal Antibody(Clone: VCL/2575)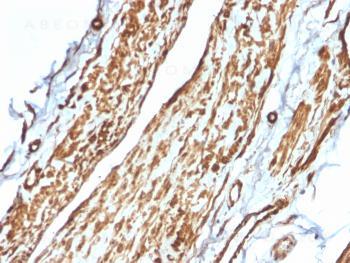 Fig. 1: Formalin-fixed, paraffin-embedded human Testicular Carcinoma stained with VCL Mouse Monoclonal Antibody (VCL/2575).
Roll over image to zoom in
---
| | |
| --- | --- |
| Amount : | 100 µg |
| Isotype : | Mouse IgG2b, kappa |
| Content : | 200 µg/ml of Ab Purified from Bioreactor Concentrate by Protein A/G. Prepared in 10mM PBS with 0.05% BSA & 0.05% azide. Also available WITHOUT BSA & azide at 1.0mg/ml. |
| Storage condition : | Antibody with azide - store at 2 to 8°C. Antibody without azide - store at -20 to -80°C. Antibody is stable for 24 months. Non-hazardous. |
Focal adhesions are identified as areas within the plasma membrane of tissue culture cells that adhere tightly to the underlying substrate. In vivo, these regions are involved in the adhesion of cells to the extracellular matrix. Paxillin and vinculin are cytoskeletal, focal adhesion proteins that are components of a protein complex which links the Actin network to the plasma membrane. Vinculin binding sites have been identified on other cytoskeletal proteins, including Talin and -Actinin. In addition, vinculin, Talin and -Actinin each contain Actin binding sites. Expression of vinculin and Talin have been shown to be affected by the level of Actin expression. -Actinin has been shown to link Actin to integrins in the plasma membrane throµgh interactions with the vinculin and Talin complex or by a direct interaction with integrin.
Western Blot (1-2µg/ml); ,Immunohistochemistry (Formalin-fixed) (1-2µg/ml for 30 minutes at RT),(Staining of formalin-fixed tissues requires boiling tissue sections in 10mM Citrate Buffer, pH 6.0, for 10-20 min followed by cooling at RT for 20 minutes),Optimal dilution for a specific application should be determined.
For Research Use Only. Not for use in diagnostic/therapeutics procedures.
There are currently no product reviews
---
Customers who purchased this product also purchased