Anti-VISTA / B7-H5 / VSIR (Negative Regulator of Immune Response) Monoclonal Antibody(Clone: VISTA/3007)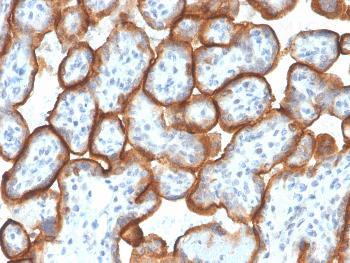 Fig. 1: Formalin-fixed, paraffin-embedded human Placenta stained with VISTA Monospecific Mouse Monoclonal Antibody (VISTA/3007).
Roll over image to zoom in
---
| | |
| --- | --- |
| Amount : | 100 µg |
| Isotype : | Mouse IgG2b, kappa |
| Content : | 200 µg/ml of Ab Purified from Bioreactor Concentrate by Protein A/G. Prepared in 10mM PBS with 0.05% BSA & 0.05% azide. Also available WITHOUT BSA & azide at 1.0mg/ml. |
| Storage condition : | Antibody with azide - store at 2 to 8°C. Antibody without azide - store at -20 to -80°C. Antibody is stable for 24 months. Non-hazardous. |
| | |
| --- | --- |
| | |
| Gene : | VSIR |
| Gene ID : | 64115 |
| Uniprot ID : | Q9H7M9 |
| Alternative Name : | B7H5; DD1alpha; GI24; PD-1H; PDCD1 homolog; Platelet receptor Gi24; PP2135; Stress-induced secreted protein 1 (SISP1); V domain Ig suppressor of T cell activation (VISTA); V Set Immuno-Regulatory Receptor |
| Immunogen Information : | Recombinant full-length human VISTA protein |
VISTA / GI24 is a transmembrane protein expressed in bone, on embryonic stem cells (ESCs), and on tumor cell surfaces. On ESC s, Gi24 appears to positively interact with BMP-4, potentiating BMP signaling and the transition from an undifferentiated to a differentiated state. On tumor cells, Gi24 both promotes MT1-MMP expression and activity and serves as a substrate for MT1-MMP. This increases the potential for cell motility. Mature human Gi24 contains a 162aa extracellular region with one V-type Ig-like domain and a 96aa cytoplasmic domain. Human Gi24 undergoes proteolytic cleavage by MT1-MMP, generating a soluble 30kDa extracellular fragment plus a 25-30kDa membrane-bound fragment. VISTA is a negative checkpoint regulator and is expressed on myeloid cells, T-cells and human TILs (tumor infiltrating lymphocytes) on MDSCs (myeloid-derived suppressor cells) in the TME (tumor microenvironment). It is very likely both a ligand and receptor and is a promising target for cancer immunotherapy.
ELISA (For coating, order antibody without BSA);Immunohistochemistry (Formalin-fixed) (1-2µg/ml for 30 minutes at RT),(Staining of formalin-fixed tissues requires boiling tissue sections in 10mM Tris with 1mM EDTA, pH 9.0, for 10-20 min followed by cooling at RT for 20 minutes),Optimal dilution for a specific application should be determined.
For Research Use Only. Not for use in diagnostic/therapeutics procedures.
There are currently no product reviews
---
Customers who purchased this product also purchased