Monoclonal Antibody to AGR2 (Clone: ABM22E6)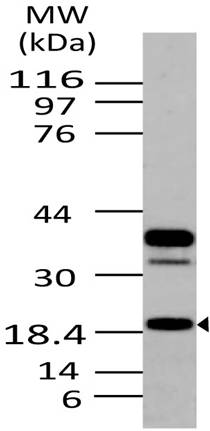 Fig-1: Western blot analysis of AGR2. Anti- AGR2 antibody (Clone: ABM22E6) was used at 6 µg/ml on MCF-7 lysate.
Roll over image to zoom in
Shipping Info:
Order now and get it on Tuesday July 07, 2020
Same day delivery FREE on San Diego area orders placed by 1.00 PM
---
AGR2 (Anterior gradient protein 2 homolog) is a protein disulfide isomerase. It is required for MUC2 post-transcriptional synthesis and secretion. AGR2 plays a role in the production of mucus by intestinal cells. AGR2 proto-oncogene may play a role in cell migration, cell differentiation and cell growth. AGR2 is expressed strongly in tissues that secrete mucus or function as endocrine organs, including the stomach, colon, lungs, prostate and small intestine.
| | |
| --- | --- |
| Purification : | Protein G Chromatography |
| Content : | 25 µg in 50 µl/100 µg in 200 µl PBS containing 0.05% BSA and 0.05% sodium azide. Sodium azide is highly toxic. |
| Storage condition : | Store the antibody at 4°C, stable for 6 months. For long-term storage, store at -20°C. Avoid repeated freeze and thaw cycles. |
Western blot analysis: 6-8 µg/ml, Immunohistochemical analysis: 5 µg/ml
For Research Use Only. Not for use in diagnostic/therapeutics procedures.
| | |
| --- | --- |
| Subcellular location: | Secreted, Endoplasmic reticulum |
| Tissue Specificity: | Expressed strongly in trachea, lung, stomach, colon, prostate and small intestine. Expressed weakly in pituitary gland, salivary gland, mammary gland, bladder, appendix, ovary, fetal lung, uterus, pancreas, kidney, fetal kidney, testis, placenta, thyroid gland and in estrogen receptor (ER)-positive breast cancer cell lines. |
| BioGrid: | 115802. 21 interactions. |
There are currently no product reviews
---
Customers who purchased this product also purchased