Monoclonal Antibody to ER-beta1 (Estrogen Receptor beta-1)(Clone : ESR2/686)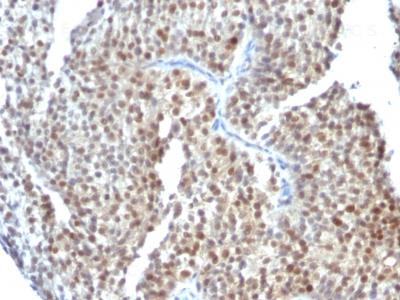 Fig-1:Formalin-fixed, paraffin-embedded human Bladder Carcinoma stained with ER-beta1 Monoclonal Antibody (ESR2/686).
Roll over image to zoom in
---
| | |
| --- | --- |
| Format : | Purified |
| Amount : | 100 µg |
| Isotype : | Mouse IgG2a |
| Purification : | Affinity Chromatography |
| Content : | 100 µg in 500 µl PBS containing 0.05% BSA and 0.05% sodium azide. Sodium azide is highly toxic. |
| Storage condition : | Store the antibody at 4°C; stable for 6 months. For long-term storage; store at -20°C. Avoid repeated freeze and thaw cycles. |
Estrogen receptors (ER) are members of the steroid/thyroid hormone receptor superfamily of ligand-activated transcription factors. Estrogen receptors, including ER-alpha and ER-beta, contain DNA binding and ligand binding domains and are critically involved in regulating the normal function of reproductive tissues. They are located in the nucleus, though some estrogen receptors associate with the cell surface membrane and can be rapidly activated by exposure of cells to estrogen. ER-alpha and ER-beta are differentially activated by various ligands. Receptor-ligand interactions trigger a cascade of events, including dissociation from heat shock proteins, receptor dimerization, phosphorylation and the association of the hormone activated receptor with specific regulatory elements in target genes. Evidence suggests that ER-alpha and ER-beta may be regulated by distinct mechanisms even though they share many functional characteristics.
Flow Cytometry (0.5-1µg/million cells in 0.1ml); Immunofluorescence (0.5-1µg/ml); Western Blot (0.5-1µg/ml); Immunohistology (Formalin-fixed) (0.5-1µg/ml for 30 minutes at RT); (Staining of formalin-fixed tissues requires boiling tissue sections in 10mM Citrate buffer, pH 6.0, for 10-20 min followed by cooling at RT for 20 minutes); Optimal dilution for a specific application should be determined.
For Research Use Only. Not for use in diagnostic/therapeutics procedures.
| | |
| --- | --- |
| Subcellular location: | Nucleus |
| Post transnational modification: | Phosphorylation at Ser-87 and Ser-105 recruits NCOA1. |
| Tissue Specificity: | Isoform 1 is expressed in testis and ovary, and at a lower level in heart, brain, placenta, liver, skeletal muscle, spleen, thymus, prostate, colon, bone marrow, mammary gland and uterus. Also found in uterine bone, breast, and ovarian tumor cell lines, but not in colon and liver tumors. Isoform 2 is expressed in spleen, thymus, testis and ovary and at a lower level in skeletal muscle, prostate, colon, small intestine, leukocytes, bone marrow, mammary gland and uterus. Isoform 4 is found in testis. Isoform 5 is expressed in testis, and at a lower level in spleen, thymus, ovary, mammary gland and uterus. Isoform 6 is expressed in testis, placenta, skeletal muscle, spleen and leukocytes, and at a lower level in heart, lung, liver, kidney, pancreas, thymus, prostate, colon, small intestine, bone marrow, mammary gland and uterus. Not expressed in brain. |
| BioGrid: | 108404. 100 interactions. |
There are currently no product reviews
---
Customers who purchased this product also purchased