Mouse Monoclonal Antibody to Human MTR (Clone : 3H1D9)(Discontinued)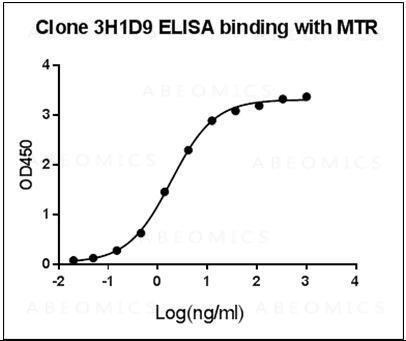 Figure-1 : ELISA binding of MTR Antibody (Clone: 3H1D9) with Human MTR recombinant protein, Coating antigen: MTR at 1 µg/ml, MTR antibody dilution start from 1000 ng/ml, EC50= 1.86 ng/ml
Roll over image to zoom in ---
| | |
| --- | --- |
| Format : | Purified |
| Amount : | 40 µg |
| Isotype : | Mouse IgG2b,Kappa |
| Purification : | Protein A chromatography |
| Content : | 0.5 mg/ml, lyophilized with PBS, pH 7.4, containing 0.02% sodium azide. |
| Storage condition : | The antibody is stable in lyophilized form if stored at -20°C or below. The reconstituted antibody can be stored for 2-3 weeks at 2-8°C. For long term storage, aliquot and store at -20°C or below. Avoid repeated freezing and thawing cycles. |
MTR encodes the 5-methyltetrahydrofolate-homocysteine methyltransferase, which is also known as cobalamin-dependent methionine synthase, catalyzes the final step in methionine biosynthesis. Mutations in MTR have been identified as the underlying cause of methylcobalamin deficiency complementation group G. Alternatively spliced transcript variants encoding distinct isoforms have been found for this gene. Among its related pathways are Metabolism and Cytochrome P450-arranged by substrate type. Catalyzing the transfer of a methyl group from methyl-cobalamin to homocysteine, yielding enzyme-bound cob(I) alamin and methionine. Subsequently, remethylating the cofactor using methyltetrahydrofolate. KO Validated Human MTR Antibody (3H1D9), mAb, Mouse is produced from a hybridoma resulting from the fusion of SP2/0 myeloma and B-lymphocytes obtained from a mouse immunized with recombinant human MTR.
ELISA detection: 0.005-0.05µg/ml
Western blot: 1-2 µg/ml
For Research Use Only. Not for use in diagnostic/therapeutics procedures.
There are currently no product reviews
---
Customers who purchased this product also purchased