NK1 Stable Cell Line-CHO-K1-Human(Currently Unavailable)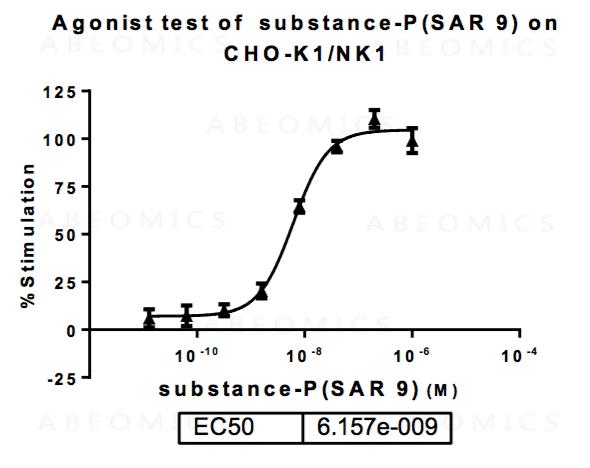 Figure 1: substance-P (SAR 9)-induced concentration-dependent stimulation of intracellular calcium mobilization in CHO-K1/NK1 cells. The cells were loaded with Calcium-4 prior to stimulation with an NK1 receptor agonist, substance-P (SAR 9). The intracellular calcium change was measured by FLIPR. The effects of agonist (%Stimulation) were plotted against the log of the cumulative doses (5-fold dilution) of substance-P (SAR 9) (Mean ± SD, n = 4). The EC50 of substance-P (SAR 9) on CHO-K1/NK1 in CHO-K1 cells was 6.15 nM. The S/B of substance-P (SAR 9) on NK1 in CHO-K1 cells was 7.5.
Roll over image to zoom in ---
| | |
| --- | --- |
| Amount : | 2 vials |
| Content : | Each Vial contains cells in 45% culture medium, 45% FBS, 10% DMSO |
| Storage condition : | Immediately upon receipt, store in liquid nitrogen. |
| | |
| --- | --- |
| | |
| Alternative Name : | Human Recombinant NK1 Tachykinin Receptor Stable Cell Line |
Tachykinins are peptides sharing the common C-terminal amino acid sequence Phe-X-Gly-Leu-Met-NH2. This neuropeptide family is composed of substance P, neurokinin A, and neurokinin B, which are widely distributed in mammalian central and peripheral nervous systems. It plays a role as both a neurotransmitter and a neuromodulator. Their actions are mediated by binding with three distinct receptors, namely, NK1, NK2, and NK3. NK1 has high affinity with substance P. In the CNS, NK1 has been implicated to play a role in regulating neuronal survival and degeneration. In the cardiovascular system, NK1 mediates endothelium-dependent vasodilatation and plasma protein extravasations. In the gastrointestinal system, NK1 receptors mediate intestinal motility, secretion, and vascular functions. SP-NK1 receptor communication is also involved in glioma development and progression. NK1 receptor antagonists may have several therapeutic applications in diseases mediated by tachykinins, such as pulmonary disorders, gut disorders, and the pathophysiology of depression.
Application: Screen for antibodies through Flow Cytometry, Immunocytochemistry or Western blotting. Culture Medium: Ham's F12, 10% FBS, 400 µg/ml G418
For Research Use Only. Not for use in diagnostic/therapeutics procedures.
There are currently no product reviews
---
Customers who purchased this product also purchased