Phospho-ATF2 (Thr71) (Clone: G3) rabbit mAb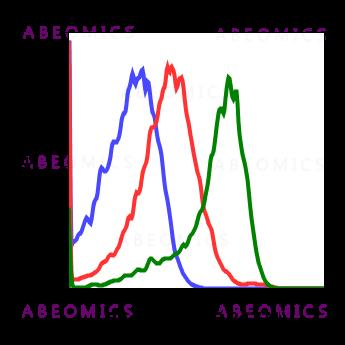 Fig-1: Flow cytometric analysis of Jurkat cells secondary antibody only negative control (blue) or untreated (red) or treated with anisomycin (green) using Phospho-ATF-2 (Thr71) antibody ATF2T71-G3 at 0.1µg/mL.
Roll over image to zoom in
---
| | |
| --- | --- |
| Format : | Purified |
| Amount : | 200 µl |
| Isotype : | Rabbit IgG1k |
| Content : | 1X PBS, 0.02% NaN3, 50% Glycerol, 0.1% BSA |
| Storage condition : | Store at -20°C. Avoid repeated freeze and thaw cycles. |
| | |
| --- | --- |
| | |
| Alternative Name : | Cyclic AMP-dependent transcription factor ATF-2, Activating transcription factor 2, Cyclic AMP-responsive element-binding protein 2, CREB-2, HB16, CREB2, CREBP1 |
| Immunogen Information : | A synthetic phospho-peptide corresponding to residues surrounding Thr71 of human phospho ATF2 |
Activating transcription factor 2 (ATF2), known as cyclic AMP (cAMP) response element (CRE) binding protein 2 (CREB2) and CRE-BP1 is a member of the activating protein-1 (AP1) transcription factor family. Through homo-dimerization or hetero-dimerization with other AP1 family members, such as the CREB, Fos, Maf, or Jun family transcription factor, it regulates the expression of many genes. ATF2 is an important mediator of mammalian cell responses to various stimuli, including stress. As a transcription factor, ATF2 acts as transducing extracellular signals to the nucleus to facilitate transcriptional responses to stimuli. ATF2 is stimulated by growth factors, ultraviolet (UV) radiation, and cytokines. Stress-activated protein kinases (SAPKs)(e.g. p38 MAP Kinase) induce transcriptional activation of ATF2. ATF2 is phosphorylated at amino acids threonine-69 and threonine-71 (T69, T71). Phosphorylation at these threonine residues is essential for maximal transcriptional activity downstream of insulin/epidermal growth factor stimulation and is dependent on cooperation between c-Jun N-terminal kinase (JNK) and signaling cascades downstream of Ras. Upon T69/T71 phosphorylation, ATF2 interacts with other AP1 proteins and translocate to the nucleus to regulate the expression of hundreds of genes.
1µg/mL - 0.001µg/mL. It is recommended that the reagent be titrated for optimal performance for each application. See product image legends for additional information.(0.5mg/ml, more than 200 western blots)
For Research Use Only. Not for use in diagnostic/therapeutics procedures.
There are currently no product reviews
---
Customers who purchased this product also purchased