Anti-CD40L Polyclonal Antibody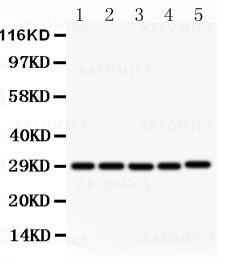 Figure 1: Anti-CD40L antibody(39-2038). Western blotting: Lanes: Anti CD40L(39-2038) at 0.5ug/ml, Lane 1: MCF-7 Whole Cell Lysate at 40ug, Lane 2: HELA Whole Cell Lysate at 40ug, Lane 3: JURKAT Whole Cell Lysate at 40ug, Lane 4: HMY2 Whole Cell Lysate at 40ug, Lane 5: COLO320 Whole Cell Lysate at 40ug. Predicted band size: 29 kDa. Observed band size: 29 kDa.
Roll over image to zoom in
---
| | |
| --- | --- |
| Amount : | 100 μg/vial |
| Isotype : | Rabbit IgG |
| Purification : | Immunogen affinity purified. |
| Content : | Each vial contains 5mg BSA, 0.9mg NaCl, 0.2mg Na2HPO4, 0.05mg Thimerosal, 0.05mg NaN3. Reconstitute : Add 0.2ml of distilled water will yield a concentration of 500ug/ml. |
| Storage condition : | At -20˚C for one year. After reconstitution, at 4˚C for one month. It can also be aliquotted and stored frozen at -20˚C for a longer time. Avoid repeated freezing and thawing. |
| | |
| --- | --- |
| | |
| Gene : | CD40LG |
| Gene ID : | 959 |
| Uniprot ID : | P29965 |
| Alternative Name : | CD40 ligand; CD40-L; T-cell antigen Gp39; TNF-related activation protein; TRAP; Tumor necrosis factor ligand superfamily member 5; CD154; CD40 ligand, membrane form; CD40 ligand, soluble form; CD40LG; CD40L, |
| Immunogen Information : | A synthetic peptide corresponding to a sequence at the N-terminus of human CD40L(47-65aa HRRLDKIEDERNLHEDFVF), different from the related mouse sequence by three amino acids, rat sequence by four amino acids. |
CD40 ligand(CD40L) is a type II membrane protein of 261 amino acids on activated T cells that induces B cell proliferation and immunoglobulin secretion. It has homology with tumour necrosis factor-alpha and -beta, and has important functions in B-cell activation and differentiation. Human CD40L with 5 exons, is mapped to the proximal region of the mouse X chromosome on Xq26.3-27.1, and can be detected on T cells but is absent from B cells and monocytes. Since CD40L is expressed on platelets and released from them on activation, its predictive value as a marker for clinical outcome and the therapeutic effect of inhibition of glycoprotein IIb /IIIa receptor in patients with acute coronary syndromes was investigated. The soluble CD40L may be involved in the process of restenosis and that it exerts its effect by triggering a complex group of inflammatory reactions on endothelial and mononuclear cells.
Western blot : 0.1-0.5μg/ml; Immunohistochemistry(Paraffin-embedded Section) : 0.5-1μg/ml
For Research Use Only. Not for use in diagnostic/therapeutics procedures.
| | |
| --- | --- |
| Subcellular location: | Secreted |
| Post transnational modification: | Not O-glycosylated. |
| Tissue Specificity: | Specifically expressed on activated CD4+ T-lymphocytes. |
| BioGrid: | 107397. 9 interactions. |
There are currently no product reviews
---
Customers who purchased this product also purchased