Anti-Cyclin D1 Polyclonal Antibody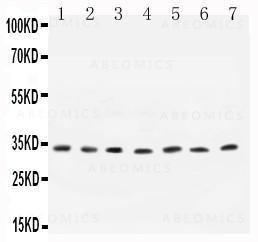 Figure 1: Anti-Cyclin D1 antibody(39-2096). Western blotting: Lanes: Anti-CCND1(39-2096) at 0.5 μg/ml with Lane 1: Rat Testis Tissue Lysate at 40μg, Lane 2: Human Placenta Tissue Lysate at 40μg, Lane 3: Rat Brain Tissue Lysate at 40μg, Lane 4: MCF-7 Whole Cell Lysate at 40μg, Lane 5: COLO320 Whole Cell Lysate at 40μg, Lane 6: SW620 Whole Cell Lysate at 40μg, Lane 7: MM231 Whole Cell Lysate at 40μg. Predicted band size: 33 kDa. Observed band size: 33 kDa.
Roll over image to zoom in
---
| | |
| --- | --- |
| Amount : | 100 μg/vial |
| Isotype : | Rabbit IgG |
| Purification : | Immunogen affinity purified. |
| Content : | Each vial contains 5mg BSA, 0.9mg NaCl, 0.2mg Na2HPO4, 0.05mg Thimerosal, 0.05mg NaN3. Reconstitute : Add 0.2ml of distilled water will yield a concentration of 500μg/ml. |
| Storage condition : | At -20˚C for one year. After reconstitution, at 4˚C for one month. It can also be aliquotted and stored frozen at -20˚C for a longer time. Avoid repeated freezing and thawing. |
Cyclin D1, also known as CCND1, is a human gene. The protein encoded by this gene belongs to the highly conserved cyclin family, whose members are characterized by a dramatic periodicity in protein abundance throughout the cell cycle. Cyclin D1 encodes the regulatory subunit of a holoenzyme that phosphorylates and inactivates the retinoblastoma protein and promotes progression through the G1-S phase of the cell cycle. Amplification or overexpression of cyclin D1 plays pivotal roles in the development of a subset of human cancers including parathyroid adenoma, breast cancer, colon cancer, lymphoma, melanoma, and prostate cancer. The cyclin D1 gene is overexpressed in human breast cancers and is required for oncogene-induced tumorigenesis. Brisken et al. (2003) found that prolactin (PRL; 176760) induced IGF2 (147470) mRNA and IGF2 induced cyclin D1 protein expression in mouse mammary epithelial cultures. And they also concluded that IGF2 is a mediator of prolactin-induced alveologenesis and that prolactin, IGF2, and cyclin D1 are components of a developmental pathway in mammary gland.
Western blot : 0.1-0.5μg/ml
For Research Use Only. Not for use in diagnostic/therapeutics procedures.
| | |
| --- | --- |
| Subcellular location: | Nucleus, Cytoplasm, Membrane |
| Post transnational modification: | Phosphorylation at Thr-286 by MAP kinases is required for ubiquitination and degradation following DNA damage. It probably plays an essential role for recognition by the FBXO31 component of SCF (SKP1-cullin-F-box) protein ligase complex. |
| BioGrid: | 107067. 101 interactions. |
There are currently no product reviews
---
Customers who purchased this product also purchased