Anti-HDAC3 Polyclonal Antibody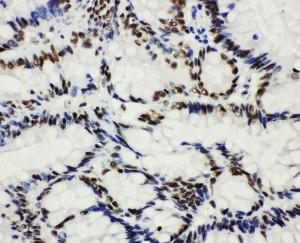 Figure 1: Anti-HDAC3 antibody(39-2121). IHC(P): Human Intestinal Cancer Tissue.
Roll over image to zoom in
---
| | |
| --- | --- |
| Amount : | 100 μg/vial |
| Isotype : | Rabbit IgG |
| Purification : | Immunogen affinity purified. |
| Content : | Each vial contains 5mg BSA, 0.9mg NaCl, 0.2mg Na2HPO4, 0.05mg Thimerosal, 0.05mg NaN3. Reconstitute : Add 0.2ml of distilled water will yield a concentration of 500ug/ml. |
| Storage condition : | At -20˚C for one year. After reconstitution, at 4˚C for one month. It can also be aliquotted and stored frozen at -20˚C for a longer time. Avoid repeated freezing and thawing. |
HDAC3(HISTONE DEACETYLASE 3) is a member of the histone deacetylase/acuc/apha family of proteins that is an enzyme that in humans is encoded by the HDAC3 gene. The HDAC3 gene is mapped to 5q31.3. HDAC3 has histone deacetylase activity and represses transcription when tethered to a promoter. It may participate in the regulation of transcription through its binding with the zinc-finger transcription factor YY1. The protein can also down-regulate p53 function and thus modulate cell growth and apoptosis. And this gene is regarded as a potential tumor suppressor gene. HDAC3 has an open reading frame of 428 amino acids and shares 53% amino acid identity with HDAC1 and 52% with HDAC2. The catalytic domain of HDAC4 interacts with HDAC3 via the transcriptional corepressor NCOR2. All experimental conditions leading to the suppression of HDAC4 binding to NCOR2 and to HDAC3 resulted in loss of enzymatic activity associated with HDAC4.
Western blot : 0.1-0.5μg/ml; Immunohistochemistry(Paraffin-embedded Section) : 0.5-1μg/ml
For Research Use Only. Not for use in diagnostic/therapeutics procedures.
| | |
| --- | --- |
| Subcellular location: | Nucleus, Cytoplasm, Cytoplasm |
| Post transnational modification: | Sumoylated in vitro. |
| Tissue Specificity: | Widely expressed. |
| BioGrid: | 114368. 224 interactions. |
There are currently no product reviews
---
Customers who purchased this product also purchased