NALE™ Monoclonal Antibody to Human PD-L1 (Clone: ABM4E54) (No Azide Low Endotoxin)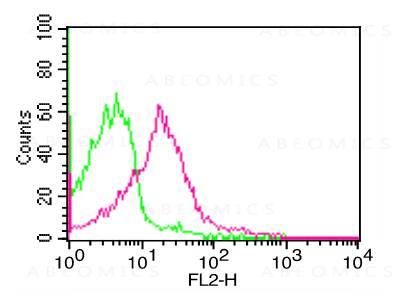 Fig-1: Cell Surface FLOW analysis of PD-L1 in PHA treated human PBMC using 1 µg of PD-L1 antibody (Clone: ABM4E54). Green represents isotype control; red represents anti-PD-L1 antibody. Goat anti-mouse PE conjugate was used as secondary antibody.
Roll over image to zoom in
Shipping Info:
Order now and get it on Tuesday March 09, 2021
Same day delivery FREE on San Diego area orders placed by 1.00 PM
---
| | |
| --- | --- |
| Format : | Azide Free,Purified |
| Amount : | 100 µg |
| Isotype : | Mouse IgG2a Kappa |
| Purification : | Protein G Chromatography |
| Content : | 25 µg in 50 µl/100 µg in 200 µl PBS containing 0.05% BSA. Azide free, low endotoxin. |
| Storage condition : | Store the antibody at 4°C; stable for 6 months. For long-term storage; store at -20°C. Avoid repeated freeze and thaw cycles. |
PD-L1 (CD274/B7-H1) is a critical membrane-bound costimulatory molecule belonging to the B7 superfamily that inhibits immune responses through its receptor, PD-1. PD-L1 plays a key role in the pathogenesis of inflammatory diseases (programmed death 1). It is widely expressed in the mononuclear phagocyte system (MPS), may co-stimulate T cells, and regulates inflammatory responses. PD-L1 exerts inflammation regulatory functions via a negative co-stimulatory effect on T cell functions to inhibit cytokine secretion, facilitates apoptosis of activated T cells, and induces T cell anergy. Aberrant expression and dysregulation of CD274 have been reported during bacterial infection, inflammation, and in numerous autoimmune diseases.
Western blot analysis: 0.5-1 µg/ml; Immunohistochemical analysis-5-10 µg/ml; FACS: 1-2 µg/ml
For Research Use Only. Not for use in diagnostic/therapeutics procedures.
| | |
| --- | --- |
| Subcellular location: | Endomembrane system |
| Post transnational modification: | Ubiquitinated; STUB1 likely mediates polyubiquitination of PD-L1/CD274 triggering its degradation. |
| Tissue Specificity: | Highly expressed in the heart, skeletal muscle, placenta and lung. Weakly expressed in the thymus, spleen, kidney and liver. Expressed on activated T- and B-cells, dendritic cells, keratinocytes and monocytes. |
| BioGrid: | 118891. 48 interactions. |
There are currently no product reviews
---
Customers who purchased this product also purchased