anti-ACE2 (human), mAb (blocking) (AC384) Azide free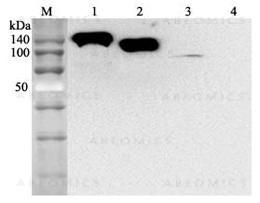 Figure 1: Binding of ACE2 (human) to the Spike protein of SARS-CoV-2 is inhibited by the antibody anti-ACE2 (human), mAb (blocking) (AC384) (29-1005). Methods: Spike (SARS-CoV-2):Fc (human) (RBD) (rec.) (32-190018) is coated on an ELISA plate at 1µg/ml. ACE2 (human), mAb (blocking) (AC384) (29-1005) or an unrelated mAb Control are added (starting at 40µg/ml with a two-fold serial dilution) together with 500ng/µl of ACE2 (human) (32-190010). After incubation for 1h at RT, the binding was detected using an anti-FLAG antibody (HRP).
Roll over image to zoom in
---
| | |
| --- | --- |
| Amount : | 100 µg |
| Isotype : | Mouse IgG1, k |
| Purification : | Protein G-affinity purified. |
| Content : | 1mg/ml in PBS. Sodium Azide free |
| Storage condition : | Short Term Storage + 4°C; Long Term Storage -20°C; Handling Advice After opening, prepare aliquots and store at -20°C. Avoid freeze/thaw cycles. |
| | |
| --- | --- |
| | |
| Uniprot ID : | Q9BYF1 |
| Alternative Name : | anti-ACE2 (human), mAb (blocking) (AC384) |
| Immunogen Information : | Recombinant human ACE2. |
Angiotensin-converting enzyme2 (ACE2) is an ectoenzyme (carboxypeptidase) with an extracellular catalytic domain that predominantly localizes at the plasma membrane and is thereby able to hydrolyze circulating peptides. ACE2 has approximately 42% sequence identity with ACE and its cytoplasmic and transmembrane domains show 48% homology to the protein collectrin, that plays a critical role in the amino acid absorption of the kidney. ACE2 converts angiotensin I to angiotensin 1-9, a peptide of unknown function, and angiotensin II to angiotensin 1-7, a vasodilator. ACE2 is involved in the regulation of systemic blood pressure and has direct effects on cardiac functions. It is expressed predominantly in endothelial cells of the lung, gut, heart and kidney. ACE2 together with the protease TMPRSS2 acts as a functional receptor for SARS coronavirus as well as for the new highly pathogenic coronavirus, 2019-nCoV/SARS-CoV-2, which is cause for pneumonia COVID-19.
ELISA: (direct or indirect: 1:2'000-1:10'000) Western blot: (1:2'000-1:10'000 using ECL. Suggested blocking and dilution buffer is PBST with 0.05% Tween 20 and 5% skim milk. Suggested incubation time is 1 hour at rooom temperature). Functional Application: Blocks the binding of human ACE2 to the Spike protein of SARS-Cov-2.
For Research Use Only. Not for use in diagnostic/therapeutics procedures.
There are currently no product reviews
---
Customers who purchased this product also purchased