Anti-Adiponectin (Marker of Obesity) Monoclonal Antibody(Clone: ADPN/1370)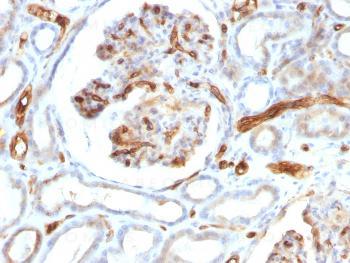 Fig. 1: Formalin-fixed, paraffin-embedded human Kidney stained with Adiponectin Mouse Monoclonal Antibody (ADPN/1370).
Roll over image to zoom in
---
| | |
| --- | --- |
| Amount : | 100 µg |
| Isotype : | Mouse IgG2b, kappa |
| Content : | 200 µg/ml of Ab Purified from Bioreactor Concentrate by Protein A/G. Prepared in 10mM PBS with 0.05% BSA & 0.05% azide. Also available WITHOUT BSA & azide at 1.0mg/ml. |
| Storage condition : | Antibody with azide - store at 2 to 8°C. Antibody without azide - store at -20 to -80°C. Antibody is stable for 24 months. Non-hazardous. |
| | |
| --- | --- |
| | |
| Gene : | ADIPOQ |
| Gene ID : | 9370 |
| Uniprot ID : | Q15848 |
| Alternative Name : | Adiponectin; Adipocyte complement-related 30kDa protein (ACRP30); Adipocyte-specific secretory protein; Adiponectin, C1Q and collagen domain containing (ACDC); ADIPOQ; Adipose most abundant gene transcript 1 protein; Adipose specific collagen like factor; ADIPQTL1; ADPN; APM-1; Gelatin-binding protein 28 (GBP28) |
| Immunogen Information : | Recombinant human Adiponectin protein fragment (around aa 145-226) (exact sequence is proprietary) |
This MAb reacts with adiponectin, an adipocytokine. Adipocytokines are hormones produced in adipose tissue. Adiponectin is abundantly present in plasma and has insulin like effect on glucose levels in the blood. Plasma adiponectin levels are low in insulin resistant patients who are obese, have diabetes mellitus type 2 or HIV-lipodystrophy. In women adiponectin levels tend to be higher than in men, which may be due to androgens suppressing adiponectin levels. Furthermore adiponectin and leptin are both indicated in regulating body weight throµgh direct action on the hypothalamus, influencing appetite. Obese people have low adiponectin levels while levels in anorexia patients are high. Adiponectin acts as ligand for various receptors, two of which have been identified, one probably involved in carbohydrate assimilation, the other in tuning the rate of metabolism.
Western Blot (1-2µg/ml); Immunohistochemistry (Formalin-fixed) (1-2µg/ml for 30 minutes at RT) (Staining of formalin-fixed tissues requires boiling tissue sections in 10mM citrate buffer, pH 6.0, for 10-20 min followed by cooling at RT for 20 minutes)Optimal dilution for a specific application should be determined.
For Research Use Only. Not for use in diagnostic/therapeutics procedures.
There are currently no product reviews
---
Customers who purchased this product also purchased