Anti-Calnexin (Endoplasmic Reticulum Marker) Monoclonal Antibody(Clone: CANX/1543)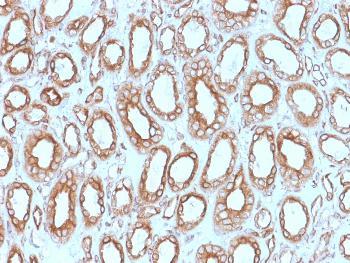 Fig. 1: Formalin-fixed, paraffin-embedded human Renal Cell Carcinoma stained with Calnexin Mouse Monoclonal Antibody (CANX/1543).
Roll over image to zoom in
---
| | |
| --- | --- |
| Amount : | 100 µg |
| Isotype : | Mouse IgG1, kappa |
| Content : | 200 µg/ml of Ab Purified from Bioreactor Concentrate by Protein A/G. Prepared in 10mM PBS with 0.05% BSA & 0.05% azide. Also available WITHOUT BSA & azide at 1.0mg/ml. |
| Storage condition : | Antibody with azide - store at 2 to 8°C. Antibody without azide - store at -20 to -80°C. Antibody is stable for 24 months. Non-hazardous. |
It recognizes a protein of 90kDa, which is identified as Calnexin. Secretory and transmembrane proteins are synthesized on polysomes and translocate into the endoplasmic reticulum (ER) where they are often modified by the formation of disulfide bonds, amino-linked glycosylation and folding. To help proteins fold properly, the ER contains a pool of molecular chaperones including calnexin. It is a calcium-binding, endoplasmic reticulum (ER)-associated protein that interacts transiently with newly synthesized N-linked glycoproteins, facilitating protein folding and assembly. It may also play a central role in the quality control of protein folding by retaining incorrectly folded protein subunits within the ER for degradation.
ELISA (Use Ab at 2-4µg/ml for coating) (Order Ab without BSA); Western Blot (1-2µg/ml); Immunohistochemistry (Formalin-fixed) (1-2µg/ml for 30 minutes at RT)(Staining of formalin-fixed tissues requires boiling tissue sections in 10mM Citrate Buffer, pH 6.0, for 10-20 min followed by cooling at RT for 20 minutes)Optimal dilution for a specific application should be determined.
For Research Use Only. Not for use in diagnostic/therapeutics procedures.
There are currently no product reviews
---
Customers who purchased this product also purchased