Anti-CD22 antibody(DM13), Rabbit mAb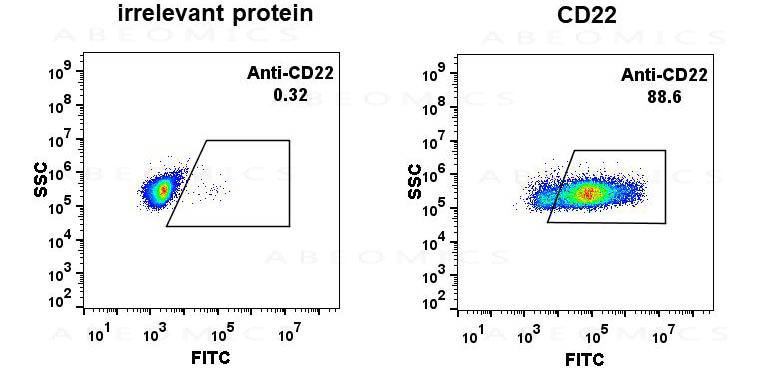 Figure 1. Expi 293 cell line transfected with irrelevant protein (left) and human CD22 (right) were surface stained with Rabbit anti- CD22 monoclonal antibody 1µg/ml (clone: DM13) followed by Alexa 488-conjugated anti-rabbit IgG secondary antibody.
Roll over image to zoom in
---
Amount :
100 µg
Isotype :
Rabbit IgG
Purification :
Purified from cell culture supernatant by affinity chromatography
Content :
Preservative: 0.1% Procline 300
Constituents: 50% Glycerol; PBS, pH 7.4; 0.1% BSA
Not Sterile
Storage condition :
Store at -20°C for 12 months (Avoid repeated freezing and thawing)
| | |
| --- | --- |
| | |
| Alternative Name : | SIGLEC-2, SIGLEC2 |
| Immunogen Information : | Recombinant human CD22 (Asp20-Arg687) produced by using human HEK293 cells |
CD22 (CD22 Molecule) is a Protein Coding gene. Diseases associated with CD22 include Refractory Hematologic Cancer and Hairy Cell Leukemia. Among its related pathways are Downstream signaling events of B Cell Receptor (BCR) and Hematopoietic cell lineage. Gene Ontology (GO) annotations related to this gene include carbohydrate binding. An important paralog of this gene is SIGLEC2.
Recommended Dilutions FACS 1/100
For Research Use Only. Not for use in diagnostic/therapeutics procedures.
There are currently no product reviews
---
Customers who purchased this product also purchased