Anti-CD34 / Mucosialin Monoclonal Antibody (Clone:QBEnd-10)-Azide free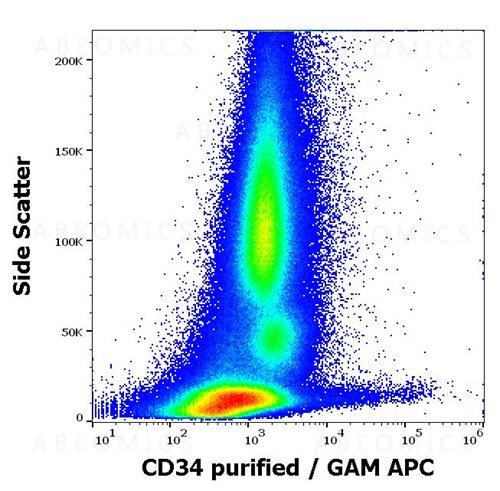 Figure-1: Flow cytometry surface staining pattern of human peripheral whole blood stained using anti-human CD34 (QBEnd-10) purified antibody (concentration in sample 0,6 μg/ml, GAM APC).
Roll over image to zoom in
---
| | |
| --- | --- |
| Amount : | 0.1 mg |
| Isotype : | Mouse IgG1 |
| Purification : | Purified by protein-A affinity chromatography |
| Storage condition : | Store at 2-8°C. Do not freeze. |
CD34 is a highly glycosylated monomeric 111-115 kDa surface protein, which is present on many stem cell populations. It is a well established stem cell marker, though its expression on human hematopoietic stem cells is reversible. CD34 probably serves as a surface receptor that undergoes receptor-mediated endocytosis and regulates adhesion, differentiation and proliferation of hematopoietic stem cells and other progenitors. CD34 expression is likely to represent a specific state of hematopoietic development that may have altered adhering properties with expanding and differentiating capabilities in both in vitro and in vivo conditions.
Functional application: The antibody QBEnd-10 induces homotypic adhesion of leukemic cell line.
Flow cytometry: Recommended dilution: 5 μg/ml.
Immunohistochemistry (paraffin sections): Recommended dilution: 2-8 μg/ml.
Western blotting: Recommended dilution: 1-2 μg/ml, positive control: TF-1 cells.
For Research Use Only. Not for use in diagnostic/therapeutics procedures.
| | |
| --- | --- |
| Subcellular location: | Membrane |
| Post transnational modification: | Phosphorylated on serine residues by PKC. |
| Tissue Specificity: | Selectively expressed on hematopoietic progenitor cells and the small vessel endothelium of a variety of tissues. |
| BioGrid: | 107385. 1 interactions. |
There are currently no product reviews
---
Customers who purchased this product also purchased