Anti-CD40 Ligand / CD154 / TRAP1 (Activation Marker of T-Lymphocytes) Monoclonal Antibody(Clone: CD40LG/2763)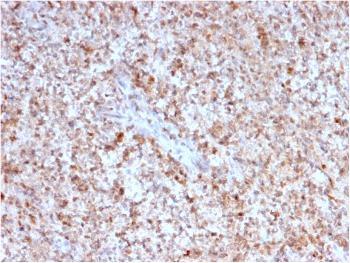 Fig. 1: Formalin-fixed, paraffin-embedded human Spleen stained with CD40 Ligand Mouse Monoclonal Antibody (CD40LG/2763).
Roll over image to zoom in
---
| | |
| --- | --- |
| Amount : | 100 µg |
| Isotype : | Mouse IgG1, kappa |
| Content : | 200 µg/ml of Ab Purified from Bioreactor Concentrate by Protein A/G. Prepared in 10mM PBS with0.05% BSA & 0.05% azide. Also available WITHOUT BSA & azide at 1.0mg/ml. |
| Storage condition : | Antibody with azide - store at 2 to 8°C. Antibody without azide - store at -20 to -80°C. Antibody is stable for 24 months. Non-hazardous. |
| | |
| --- | --- |
| | |
| Gene : | CD40LG |
| Gene ID : | 959 |
| Uniprot ID : | P29965 |
| Alternative Name : | CD154; gp39; hCD40L; HIGM1; IGM; IMD3; T B cell activating molecule; T BAM; T-cell antigen Gp39; TNF-related activation protein;TrAP; Tumor necrosis factor ligand superfamily member 5 (TNFSF5) |
| Immunogen Information : | Recombinant fragment of human CD40LG protein (around aa 108-261) (exact sequence is proprietary) |
CD40LG expression is mainly confined to the CD4-positive-T-cell subset. Its expression is induced shortly after T-cell activation and represents an early activation marker of T lymphocytes. CD40 is constitutively expressed mainly on B cells, macrophages, and dendritic cells. The CD40-CD40L pathway has been shown to play multiple functional roles in the healthy immune system. It enhances the antigen-specific T-cell response throµgh the activation of dendritic cells and the induction of interleukin-12 production. For example, engagement of CD40 on endothelial cells by activated T cells expressing CD40L leads to upregulation of adhesion molecules such as ICAM-1, VCAM-1, and E-selectin. Activation of APC by CD40-CD40L interaction induces the production of inflammatory cytokines, chemokines, NO, and metalloproteinases. Interaction of CD4-positiveCD40LG-positiveT cells with CD40 on B cells leads to B-cell differentiation, proliferation, immunoglobulin (Ig) isotype switching, and formation of memory B cells.
ELISA (For coating, order antibody without BSA);Flow Cytometry (1-2µg/million cells);Immunofluorescence (1-2µg/ml); ,Immunohistochemistry (Formalin-fixed) (1-2µg/ml for 30 minutes at RT),(Staining of formalin-fixed tissues requires boiling tissue sections in 10mM Citrate Buffer, pH 6.0, for 10-20 min followed by cooling at RT for 20 minutes),Optimal dilution for a specific application should be determined.
For Research Use Only. Not for use in diagnostic/therapeutics procedures.
There are currently no product reviews
---
Customers who purchased this product also purchased