Anti-CD40 / TNFRSF5 / CD40L-Receptor Monoclonal Antibody(Clone: C40/1605)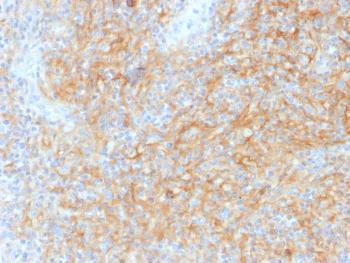 Fig. 1: Formalin-fixed, paraffin-embedded human Hodgkin's Lymphoma stained with CD40 Mouse Monoclonal Antibody (C40/1605).
Roll over image to zoom in
---
| | |
| --- | --- |
| Amount : | 100 µg |
| Isotype : | Mouse IgG1, kappa |
| Content : | 200 µg/ml of Ab Purified from Bioreactor Concentrate by Protein A/G. Prepared in 10mM PBS with 0.05% BSA & 0.05% azide. Also available WITHOUT BSA & azide at 1.0mg/ml. |
| Storage condition : | Antibody with azide - store at 2 to 8°C. Antibody without azide - store at -20 to -80°C. Antibody is stable for 24 months. Non-hazardous. |
CD40 is a receptor on antigen-presenting cells of the immune system and is essential for mediating a broad variety of immune and inflammatory responses including T cell-dependent immunoglobulin class switching, memory B cell development, and germinal center formation. AT-hook transcription factor AKNA is reported to coordinately regulate the expression of this receptor and its ligand, which may be important for homotypic cell interactions. Adaptor protein TNFR2 interacts with this receptor and serves as a mediator of the signal transduction. The interaction of this receptor and its ligand is found to be necessary for amyloid-beta-induced microglial activation, and thus is thoµght to be an early event in Alzheimer disease pathogenesis. CD40 is expressed on B-lymphocytes, follicular dendritic cells, bone marrow-derived dendritic cells, thymic epithelium, and interdigitating cells in the T-cell zones of secondary lymphoid organs.
Immunofluorescence (1-2µg/ml); Flow Cytometry (1-2µg/million cells); ,Immunohistochemistry (Formalin-fixed) (1-2µg/ml for 30 minutes at RT),(Staining of formalin-fixed tissues requires boiling tissue sections in 10mM Tris with 1mM EDTA, pH 9.0, for 10-20 min followed by cooling at RT for 20 minutes),Optimal dilution for a specific application should be determined.
For Research Use Only. Not for use in diagnostic/therapeutics procedures.
There are currently no product reviews
---
Customers who purchased this product also purchased