Anti-CD63 (Late Endosomes Marker) Monoclonal Antibody(Clone: LAMP3/2788)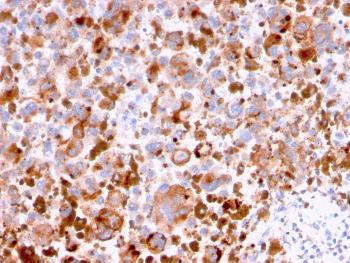 Fig. 1: Formalin-fixed, paraffin-embedded human Melanoma stained with CD63 Mouse Monoclonal Antibody (LAMP3/2788).
Roll over image to zoom in
---
| | |
| --- | --- |
| Amount : | 100 µg |
| Isotype : | Mouse IgG2b, kappa |
| Content : | 200 µg/ml of Ab Purified from Bioreactor Concentrate by Protein A/G. Prepared in 10mM PBS with 0.05% BSA & 0.05% azide. Also available WITHOUT BSA & azide at 1.0mg/ml. |
| Storage condition : | Antibody with azide - store at 2 to 8°C. Antibody without azide - store at -20 to -80°C. Antibody is stable for 24 months. Non-hazardous. |
| | |
| --- | --- |
| | |
| Gene : | CD63 |
| Gene ID : | 967 |
| Uniprot ID : | P08962 |
| Alternative Name : | gp55; granulophysin; Lysosomal-associated membrane protein 3 (LAMP-3); Mast cell antigen AD1; Melanoma-associated antigen ME491; MLA1; NGA; Ocular melanoma-associated antigen; OMA81H; PTLGP40; Tetraspanin-30; TSPAN30 |
| Immunogen Information : | Recombinant human CD63 protein fragment (around aa100-197) (exact sequence is proprietary) |
This MAb recognizes protein of 26kDa-60kDa, which is identified as CD63. Its epitope is different from that of MAb LAMP3/529. The tetraspanins are integral membrane proteins expressed on cell surface and granular membranes of hematopoietic cells and are components of multi-molecular complexes with specific integrins. The tetraspanin CD63 is a lysosomal membrane glycoprotein that translocates to the plasma membrane after platelet activation. CD63 is expressed on activated platelets, monocytes and macrophages, and is weakly expressed on granulocytes, T cell and B cells. It is located on the basophilic granule membranes and on the plasma membranes of lymphocytes and granulocytes. CD63 is a member of the TM4 superfamily of leukocyte glycoproteins that includes CD9, CD37 and CD53, which contain four transmembrane regions. CD63 may play a role in phagocytic and intracellular lysosome-phagosome fusion events. CD63 deficiency is associated with Hermansky-Pudlak syndrome and is strongly expressed during the early stages of melanoma progression.
Western Blot (1-2µg/ml);Immunohistochemistry (Formalin-fixed) (1-2µg/ml for 30 minutes at RT)(Staining of formalin-fixed tissues is enhanced by boiling tissue sections in 10mM Citrate Buffer, pH 6.0, for 10-20 min followed by cooling at RT for 20 minutes)Optimal dilution for a specific application should be determined.
For Research Use Only. Not for use in diagnostic/therapeutics procedures.
There are currently no product reviews
---
Customers who purchased this product also purchased