Biotin Conjugated, Anti-Cytokeratin 18 Monoclonal Antibody (Clone:DA-7)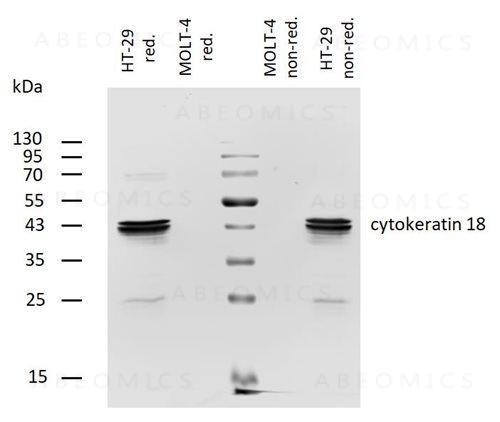 Figure-1: Western blotting analysis of human cytokeratin 18 using mouse monoclonal antibody DA-7 on lysates of HT-29 cell line and MOLT-4 cell line (cytokeratin non-expressing cell line; negative control) under non-reducing and reducing conditions. Nitrocellulose membrane was probed with 2 µg/ml of biotinylated mouse anti-cytokeratin 18 monoclonal antibody followed by IRDye800-conjugated streptavidin. Cytokeratin 18 was detected at approximately 46 kDa.
Roll over image to zoom in
---
| | |
| --- | --- |
| Amount : | 0.1 mg |
| Isotype : | Mouse IgG1 |
| Storage condition : | Store at 2-8°C. Do not freeze. |
Cytokeratins are a subfamily of intermediate filaments and characterized by remarkable biochemical diversity. Cytokeratins are represented in epithelial tissues by at least 20 different polypeptides, molecular weight between 40 kDa and 68 kDa. The individual cytokeratin polypeptides are designated 1 to 20 and divided into the type I (acidic cytokeratins 9-20) and type II (basic to neutral cytokeratins 1-8) families.Cytokeratins 18 belongs to type I family (acidic cytokeratins).
Western blotting: Recommended dilution: 1-2 μg/ml.
For Research Use Only. Not for use in diagnostic/therapeutics procedures.
| | |
| --- | --- |
| Subcellular location: | Cytoplasm, Nucleus |
| Post transnational modification: | O-GlcNAcylation increases solubility, and decreases stability by inducing proteasomal degradation. |
| Tissue Specificity: | Expressed in colon, placenta, liver and very weakly in exocervix. Increased expression observed in lymph nodes of breast carcinoma. |
| BioGrid: | 110073. 113 interactions. |
There are currently no product reviews
---
Customers who purchased this product also purchased