Anti-Cytokeratin, pan (Epithelial Marker) Monoclonal Antibody(Clone: PCK/3150)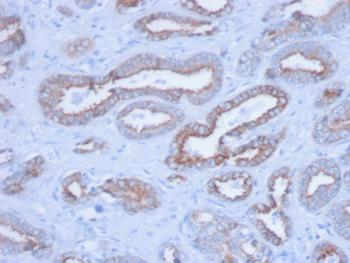 Fig. 1: Formalin-fixed, paraffin-embedded human Prostate stained with Pan-Cytokeratin Mouse Monoclonal Antibody (PCK/3150).
Roll over image to zoom in
---
| | |
| --- | --- |
| Amount : | 100 µg |
| Isotype : | Mouse IgG2a, kappa |
| Content : | 200 µg/ml of Ab Purified from Bioreactor Concentrate by Protein A/G. Prepared in 10mM PBS with 0.05% BSA & 0.05% azide. Also available WITHOUT BSA & azide at 1.0mg/ml. |
| Storage condition : | Antibody with azide - store at 2 to 8°C. Antibody without azide - store at -20 to -80°C. Antibody is stable for 24 months. Non-hazardous. |
| | |
| --- | --- |
| | |
| Alternative Name : | K1B; KRT1B; Keratin, type II cytoskeletal 1b; K77; CK-1B; Keratin 1B; Keratin-77; Cytokeratin-1B; Type-II Keratin Kb39 |
| Immunogen Information : | Crude cytokeratin extract prepared from RT-4 and MCF-7 cells. |
Anti-cytokeratin clone PCK/3150 demonstrates a broad spectrum of cytokeratin reactivity. In normal tissues, PCK/3150 is reactive with most epithelial types, including bile ducts and hepatocytes in liver, bladder epithelium, breast ducts, bronchial epithelium, endometrium, intestinal epithelium of stomach, duodenum, ileum, colon, rectum, pancreas, ovarian epithelium, pancreatic acini, pituitary acini, pneumocytes, prostate, thyroid, skin (positive on the basal layer and negative on the superficial layers of squamous epithelium), and apocrine and sweat glands. In tumors, PCK/3150 is reactive with most carcinomas, including breast, transitional cell (TCC), renal cell (RCC), lung adenocarcinoma, lung small cell, lung squamous cell, endometrial, prostate, ovarian, hepatocellular (HCC), colorectal CA, stomach and thyroid. It is negative in certain normal tissues, including brain, lymphocytes and all cells of hematolymphoid origin, muscle, brain, nerves, endothelium and in certain tumors including most melanomas, sarcomas, lymphomas, primitive neuroectodermal tumors (PNET)/Ewings and gastrointestinal stromal tumors (GIST). Positivity has been seen on some dendritic cells in lymph nodes, some endothelia, and some muscle cells.
Flow Cytometry (1-2µg/million cells); Immunofluorescence (1-2µg/ml);Immunohistochemistry (Formalin-fixed) (0.5-1µg/ml for 30 min at RT),(Staining of formalin-fixed tissues requires boiling tissue sections in 10mM citrate buffer, pH 6.0, for 10-20 min followed by cooling at RT for 20 minutes),Optimal dilution for a specific application should be determined.
For Research Use Only. Not for use in diagnostic/therapeutics procedures.
There are currently no product reviews
---
Customers who purchased this product also purchased