Anti-Milk Fat Globule (Breast Epithelial Marker) Monoclonal Antibody(Clone: MFG-06)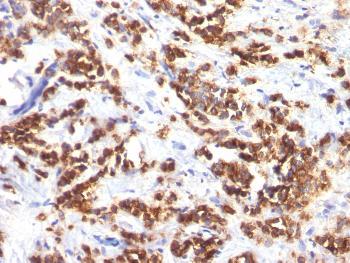 Fig. 1: Formalin-fixed, paraffin-embedded human Breast Carcinoma stained with Milk Fat Globule Monoclonal Antibody (MFG-06)
Roll over image to zoom in
---
| | |
| --- | --- |
| Amount : | 100 µg |
| Isotype : | Mouse IgG1, kappa |
| Content : | 200 µg/ml of Ab Purified from Bioreactor Concentrate by Protein A/G. Prepared in 10mM PBS with 0.05% BSA & 0.05% azide. Also available WITHOUT BSA & azide at 1.0mg/ml. |
| Storage condition : | Antibody with azide - store at 2 to 8°C. Antibody without azide - store at -20 to -80°C. Antibody is stable for 24 months. Non-hazardous. |
Recognizes a protein of 40-45kDa, identified as human milk fat globule membrane protein (HMFG). HMFG is present on normal human breast epithelial cells and cell lines derived from breast carcinomas, as well as to the outer surface of the human milk fat globule. HMFG is considered as a differentiation marker. It is useful as specific breast epithelial marker and can also provide a tool to study the role of the cell surface in normal and neoplastic mammary development.
Immunohistochemistry (Formalin-fixed) (0.5-1µg/ml for 30 min at RT)(Staining of formalin-fixed tissues requires boiling tissue sections in 10mM Citrate Buffer, pH 6.0, for 10-20 min followed by cooling at RT for 20 minutes)Optimal dilution for a specific application should be determined
For Research Use Only. Not for use in diagnostic/therapeutics procedures.
There are currently no product reviews
---
Customers who purchased this product also purchased