Anti-Synaptophysin (Neuroendocrine Marker) Monoclonal Antibody(Clone: SYP/3551)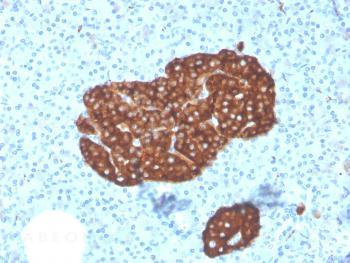 Fig. 1: Formalin-fixed, paraffin-embedded human Pancreas stained with Synaptophysin-Monospecific Mouse Monoclonal Antibody (SYP/3551).
Roll over image to zoom in
---
| | |
| --- | --- |
| Amount : | 100 µg |
| Isotype : | Mouse IgG1, kappa |
| Content : | 200 µg/ml of Ab Purified from Bioreactor Concentrate by Protein A/G. Prepared in 10mM PBS with 0.05% BSA & 0.05% azide. Also available WITHOUT BSA & azide at 1.0mg/ml. |
| Storage condition : | Antibody with azide - store at 2 to 8°C. Antibody without azide - store at -20 to -80°C. Antibody is stable for 24 months. Non-hazardous. |
This Monospecific monoclonal antibody recognizes a protein of 38kDa that is identified as synaptophysin. It is an N-glycosylated integral membrane protein found in neurons and endocrine cells. Synaptophysin contains four transmembrane domains and may function as a gap junction-like channel. This antibody identifies normal neuroendocrine cells and neuroendocrine neoplasms. Diffuse, finely granular, cytoplasmic staining is observed, which probably correlates with the distribution of the antigen within neurosecretory vesicles. Synaptophysin is an independent, broad-range marker of neural and neuroendocrine differentiation.
Immunohistochemistry (Formalin-fixed) (1-2µg/ml for 30 min at RT),(Staining of formalin-fixed tissues requires boiling tissue sections in 10mM Citrate Buffer, pH 6.0, for 10-20 min followed by cooling at RT for 20 minutes),Optimal dilution for a specific application should be determined.
For Research Use Only. Not for use in diagnostic/therapeutics procedures.
There are currently no product reviews
---
Customers who purchased this product also purchased