Anti-Uroplakin 1B (Urothelial Differentiation Marker) Monoclonal Antibody(Clone: UPK1B/3273)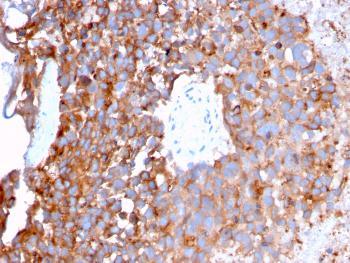 Fig. 1: Formalin-fixed, paraffin-embedded human Urothelial Carcinoma stained with Monospecific Mouse Monoclonal Antibody to Uroplakin 1B (UPK1B/3273).
Roll over image to zoom in
---
| | |
| --- | --- |
| Amount : | 100 µg |
| Isotype : | Mouse IgG1, kappa |
| Content : | 200 µg/ml of Ab Purified from Bioreactor Concentrate by Protein A/G. Prepared in 10mM PBS with 0.05% BSA & 0.05% azide. Also available WITHOUT BSA & azide at 1.0mg/ml. |
| Storage condition : | Antibody with azide - store at 2 to 8°C. Antibody without azide - store at -20 to -80°C. Antibody is stable for 24 months. Non-hazardous. |
The protein encoded by this gene is a member of the transmembrane 4 superfamily, also known as the tetraspanin family. Most of these members are cell-surface proteins that are characterized by the presence of four hydrophobic domains. The proteins mediate signal transduction events that play a role in the regulation of cell development, activation, growth and motility. This encoded protein is found in the asymmetrical unit membrane (AUM) where it can form a complex with other transmembrane 4 superfamily proteins. It may play a role in normal bladder epithelial physiology, possibly in regulating membrane permeability of superficial umbrella cells or in stabilizing the apical membrane throµgh AUM/cytoskeletal interactions.UPK1B is expressed by terminally differentiated urothelial cells.
ELISA (For coating, order Ab without BSA); Immunohistochemistry (Formalin-fixed) (1-2µg/ml for 30 minutes at RT)(Staining of formalin-fixed tissues requires boiling tissue sections in 10mM citrate buffer, pH 6.0, for 10-20 min followed by cooling at RT for 20 minutes)Optimal dilution for a specific application should be determined.
For Research Use Only. Not for use in diagnostic/therapeutics procedures.
There are currently no product reviews
---
Customers who purchased this product also purchased