Lipopolysaccharide-LPS from Ecoli 0111:B4, Ion-Exchange Chromatography,TLR4 ligand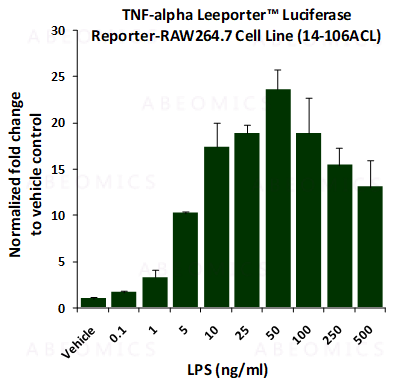 Fig-1: Induction of TNF-alpha promoter activity mediated by LPS-stimulated TLR4. TNF-alpha Leeporter™ Luciferase Reporter-RAW264.7 Cells (Abeomics, Cat. No. 14-106ACL) were treated with different concentrations of LPS (15-1030) for 16 h, and then luciferase activity was measured.
Roll over image to zoom in
---
| | |
| --- | --- |
| Amount : | 1 mg |
| Purification : | Ion-Exchange Chromatography, purity 99.9% |
| Content : | Liquid, colourless clear aqueous solution containing 5 mg/ml in sterile endotoxin free double-distilled water. |
| Storage condition : | Stable for at least 2 years after receipt when stored at 4°C. Do not freeze the item. |
Lipopolysaccharides (LPSs) are characteristic components of the cell wall of Gram-negative bacteria. LPS and its lipid A moiety stimulate cells of the innate immune system by the Toll-like receptor 4 (TLR4), a member of the Toll-like receptor protein family, which recognizes common pathogen-associated molecular-patterns (PAMPs).
Lipopolysaccharides (LPS) are localized in the outer layer of the membrane and are, in noncapsulated strains, exposed on the cell surface. They contribute to the integrity of the outer membrane, and protect the cell against the action of bile salts and lipophilic antibiotics.
The product is soluble in water (5 mg/ml) or cell culture medium (1 mg/ml) yielding a hazy, faint yellow solution. A more concentrated, though still hazy, solution (20 mg/ml) has been achieved in aqueous saline after vortexing and warming to 70-80°C. Lipopolysaccharides are molecules that form micelles in every solvent. Hazy solutions are observed in water and phosphate buffered saline. Organic solvents do not give clearer solutions. Methanol yields a turbid suspension with floaters, while water yields a homogeneously hazy solution..
For Research Use Only. Not for use in diagnostic/therapeutics procedures.
There are currently no product reviews
---
Customers who purchased this product also purchased