Monoclonal Antibody to Ikke/Ikki/TBK1 (Clone: ABM13C7)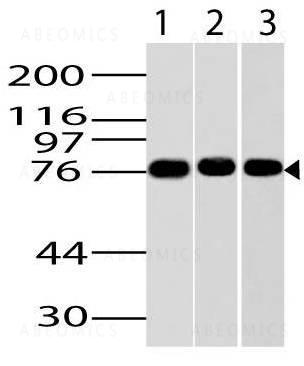 Fig-1: Western blot analysis of IKKe. Anti-Ikke antibody (Clone: ABM13C7) was tested at 2 µg/ml on Jurkat, NIH 3T3 and HepG2 lysates.
Roll over image to zoom in
Shipping Info:
Order now and get it on Tuesday March 02, 2021
Same day delivery FREE on San Diego area orders placed by 1.00 PM
---
| | |
| --- | --- |
| Format : | Purified |
| Amount : | 100 µg |
| Isotype : | Mouse IgG2a Kappa |
| Purification : | Protein G Chromatography |
| Content : | 25 µg in 50 µl/100 µg in 200 µl PBS containing 0.05% BSA and 0.05% sodium azide. Sodium azide is highly toxic. |
| Storage condition : | Store the antibody at 4°C; stable for 6 months. For long-term storage; store at -20°C. Avoid repeated freeze and thaw cycles. |
Ikke is a member of the IKK (IKappaB kinase) family that has been identified as an oncogenic protein and found to be up-regulated in breast cancer, ovarian cancer and prostate cancer. The Ikke protein has 33% and 31% identity at the amino acid level with Ikka and Ikkb, respectively and is primarily activated by interferon and mediates interferon signaling. The activated Ikke stimulates the transcription factor interferon regulatory factors 3 and phosphorylates signal transducer and activator of transcription. Ikke also shares some function with Ikka and Ikkb to activate NF- KappaB pathway by phosphorylation and degradation of IKappaBalpha. However, Ikke mainly mediates NF-KappaB activation induced by interferon, phorbol 12-myristate 13-acetate or the T-cell receptor, but not by tumor necrosis factor and interleukin 1, which activate Ikka and Ikkb. Ikke is predominantly expressed and active in peripheral blood leukocytes, pancreas, thymus, and spleen and contributes to IRF as well as NF-KappaB activation.
Western blot analysis: 2-4 µg/ml; Immunohistochemical analysis: 10-20 µg/ml
For Research Use Only. Not for use in diagnostic/therapeutics procedures.
| | |
| --- | --- |
| Subcellular location: | Cytoplasm, Nucleus, Nucleus |
| Post transnational modification: | Sumoylation by TOPORS upon DNA damage is required for protection of cells against DNA damage-induced cell death. Desumoylated by SENP1. |
| Tissue Specificity: | Highly expressed in spleen followed by thymus, peripheral blood leukocytes, pancreas, placenta. Weakly expressed in lung, kidney, prostate, ovary and colon. |
| BioGrid: | 115000. 78 interactions. |
There are currently no product reviews
---
Customers who purchased this product also purchased