Mouse Monoclonal Antibody to CEA(Clone :BS33)(Discontinued)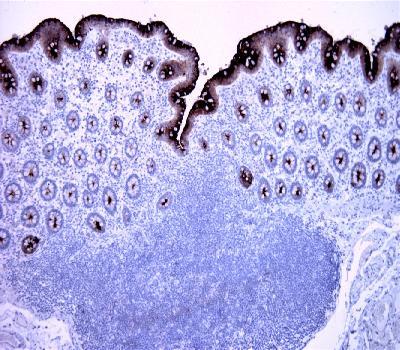 Figure-1: Human colon have been stained using CEA antibody (Clone: BS33). Carcinoembryonic antigen (CEA) is expressed in the apical border of the columnar cells of colon. Specific staining. No staining of leucocytes. No staining in liverX100.
Roll over image to zoom in ---
| | |
| --- | --- |
| Amount : | 0.5 ml |
| Isotype : | Mouse IgG1 |
| Content : | TRIS with 0.03% sodium azide, pH7.2 |
| Storage condition : | Store at 4°C |
CEA are useful in identifying the origin of various metastatic adenocarcinomas and in distinguishing pulmonary adenocarcinomas (60 to 70% are CEA+) from pleural mesotheliomas (rarely or weakly CEA+).The carcinoembryonic antigen (CEA) is a member of a large family of glycoproteins and a useful tumor marker for adenocarcinoma. Tissue specificity: Found in adenocarcinomas of endodermally derived digestive system epithelium and fetal colon.
Immunohistochemical Analysis :-1:250
For Research Use Only. Not for use in diagnostic/therapeutics procedures.
| | |
| --- | --- |
| Subcellular location: | Cell membrane, Apical cell membrane, Cell surface |
| Post transnational modification: | Complex immunoreactive glycoprotein with a MW of 180 kDa comprising 60% carbohydrate. |
| Tissue Specificity: | Expressed in columnar epithelial and goblet cells of the colon (at protein level) (PubMed:10436421). Found in adenocarcinomas of endodermally derived digestive system epithelium and fetal colon. |
| BioGrid: | 107478. 6 interactions. |
There are currently no product reviews
---
Customers who purchased this product also purchased