Mouse Monoclonal Antibody to Human RPL17 (Clone : 6H11E8)(Discontinued)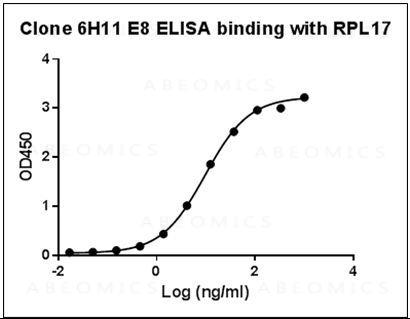 Figure-1 : ELISA binding of RPL17 Antibody (Clone: 6H11E8) with Human RPL17 recombinant protein, Coating antigen: RPL17 at 1 µg/ml, RPL17 antibody dilution start from 1000 ng/ml, EC50= 8.766 ng/ml
Roll over image to zoom in ---
| | |
| --- | --- |
| Format : | Purified |
| Amount : | 40 µg |
| Isotype : | Mouse IgG2b,k |
| Purification : | Protein A chromatography |
| Content : | 0.5 mg/ml, lyophilized with PBS, pH 7.4, containing 0.02% sodium azide. |
| Storage condition : | The antibody is stable in lyophilized form if stored at -20°C or below. The reconstituted antibody can be stored for 2-3 weeks at 2-8°C. For long term storage, aliquot and store at -20°C or below. Avoid repeated freezing and thawing cycles. |
| | |
| --- | --- |
| | |
| Gene : | RPL17 |
| Gene ID : | 6139 |
| Uniprot ID : | P18621 |
| Alternative Name : | 60S ribosomal protein L17, 60S ribosomal protein L23, gene encoding putative NFkB activating protein, Large ribosomal subunit protein uL22, MGC117162, PD-1, ribosomal protein L17, RPL17, rpL23 |
| Immunogen Information : | Recombinant Human RPL17 |
Ribosomes, the organelles that catalyze protein synthesis, consist of a small 40S subunit and a large 60S subunit. These subunits are composed of 4 RNA species and approximately 80 structurally distinct proteins. RPL17 encodes a ribosomal protein that is a component of the 60S subunit. The protein belongs to the L22P family of ribosomal proteins. It is located in the cytoplasm. Among its related pathways are Metabolism and Viral mRNA Translation. As it is typical for genes encoding ribosomal proteins, there are multiple processed pseudogenes of this gene dispersed through the genome. Alternative splicing results in multiple transcript variants. Human RPL17 Antibody (6H11E8), mAb, Mouse is produced from a hybridoma resulting from the fusion of SP2/0 myeloma and B-lymphocytes obtained from a mouse immunized with recombinant human RPL17.
ELISA detection: 0.01-0.1 µg/ml
Immunofluorescence: 2-10 µg/ml
Western blot: 1-2 µg/ml
For Research Use Only. Not for use in diagnostic/therapeutics procedures.
There are currently no product reviews
---
Customers who purchased this product also purchased