Recombinant Human PD-L1 Fc Fusion Protein (Active)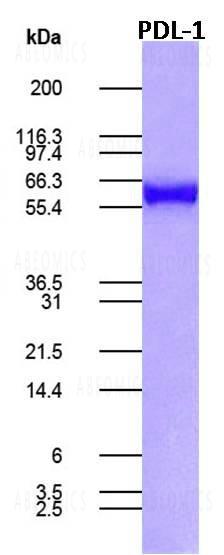 Figure-1: Recombinant Human PD-L1 Fc Fusion Protein. 0.5 ug protein was run on a 4-20% SDS-PAGE gel followed by Coomassie blue staining.
Roll over image to zoom in
Shipping Info:
Order now and get it on Wednesday December 06, 2023
Same day delivery FREE on San Diego area orders placed by 1.00 PM
---
| | |
| --- | --- |
| Amount : | 100 µg |
| Purification : | 99% Purity SDS -PAGE and HPLC. |
| Content : | Lyophilized sterile PBS, 5% trehalose and 0.01% tween 80 are added as protectant before lyophilization. |
| Storage condition : | Store it under sterile conditions at -20°C to -80°C. It is recommended that the protein be aliquoted for optimal storage. Avoid repeated freeze-thaw cycles. |
| AA sequence : | Human PD-L1 (ECD): MRIFAVFIFMTYWHLLNAFTVTVPKDLYVVEYGSNMTIECKFPV EKQLDLAALIVYWEMEDKNIIQFVHGEEDLKVQHSSYRQRARLL KDQLSLGNAALQITDVKLQDAGVYRCMISYGGADYKRITVKVNA PYNKINQRILVVDPVTSEHELTCQAEGYPKAEVIWTSSDHQVLS GKTTTTNSKREEKLFNVTSTLRINTTTNEIFYCTFRRLDPEENH TAELVIPELPLAHPPNER |
| | |
| --- | --- |
| | |
| Alternative Name : | B7 homolog 1, CD274, B7H1, PDCD1L1, PDCD1LG1, PDL1 |
Host: CHO-K1 celline. PD-L1 (CD274/B7-H1) is a critical membrane-bound costimulatory molecule belongs to the B7 superfamily that inhibits immune responses through its receptor, PD-1 and PD-L1 play a key role in the pathogenesis of inflammatory diseases (programmed death 1). It is widely expressed in the mononuclear phagocyte system (MPS), may co-stimulate T cells and regulates inflammatory responses. PD-L1 exerts inflammation regulatory functions via a negative co-stimulatory effect on T cell functions to inhibit cytokine secretion, facilitate apoptosis of activated T cells and induce T cell anergy. Aberrant expression and dysregulation of CD274 have been reported during bacterial infection, inflammation and in numerous autoimmune diseases.
Functional assay: Measured by its binding ability in a functional FLOW . Binding assay was tested using CHO-K1/PD-1 (cat no. 14-500ACL).
Endotoxin: < 1.0 EU per μg of the protein as determined by the LAL method
For Research Use Only. Not for use in diagnostic/therapeutics procedures.
There are currently no product reviews
---
Customers who purchased this product also purchased