Monoclonal Antibody to SARS-CoV-2 nucleocapsid (Clone: ABM4H11.1C12)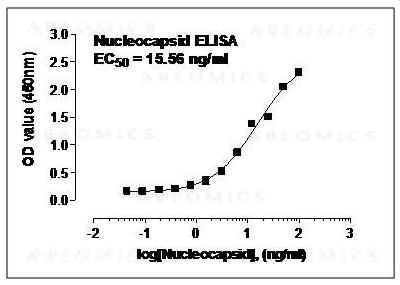 Figure-1: The Sandwich ELISA was carried out by coating the 96 well plate with 200 ng/well of ABM4H11.1C12 (Cat#10-10035) monoclonal antibody. The nucleocapsid protein (21-1003) was serially diluted from 10 ng to 0.0004ng in triplicates across rows. The 11-2004 polyclonal antibody (200 ng/well ) was used as detection antibody. Goat Anti-rabbit HRP was used as secondary antibody.
Roll over image to zoom in
Shipping Info:
Order now and get it on Tuesday September 26, 2023
Same day delivery FREE on San Diego area orders placed by 1.00 PM
---
| | |
| --- | --- |
| Format : | Purified |
| Amount : | 100 µg |
| Isotype : | Mouse IgG2b, Kappa |
| Purification : | Protein G Chromatography |
| Content : | 25 µg in 50 µl/100 µg in 200 µl PBS containing 0.05% BSA and 0.05% sodium azide. Sodium azide is highly toxic. |
| Storage condition : | Store the antibody at 4°C, stable for 6 months. For long-term storage, store at -20°C. Avoid repeated freeze and thaw cycles. |
The structural nucleocapsid (N) protein of nCoV/SARS-CoV-2/COVID-19 is a predicted 46 kDa phosphoprotein having 419 amino acid residues. A short Serine rich stretch and a recognized nuclear localization signal are the unique features of the nucleocapsid protein of nCoV/SARS-CoV-2/COVID-19, which seems to have a little homology with the proteins of other members of this large corona virus family. These features also suggest the involvement of nucleocapsid protein of nCoV/SARS-CoV-2/COVID-19 in different stages of viral lifecycle. The protein has multifaceted activities including packing of the nCoV/SARS-CoV-2/COVID-19 viral genome into a helical ribonucleocapsid (RNP) and playing an important role in viral self-assembly causing nCoV/SARS-CoV-2/COVID-19. The nucleocapsid protein of nCoV/SARS-CoV-2/COVID-19 also forms dimer in the cell by self-association with the help of interactive C terminal domain.
Recommended dilutions: WB: 0.1-1 µg/ml, ELISA: 1 µg/ml. However, this need to be optimized based on the research applications.
For Research Use Only. Not for use in diagnostic/therapeutics procedures.
There are currently no product reviews
---
Customers who purchased this product also purchased