Mouse monoclonal antibody to SARS-CoV2 (ACE2 binding domain) (Clone:2G1)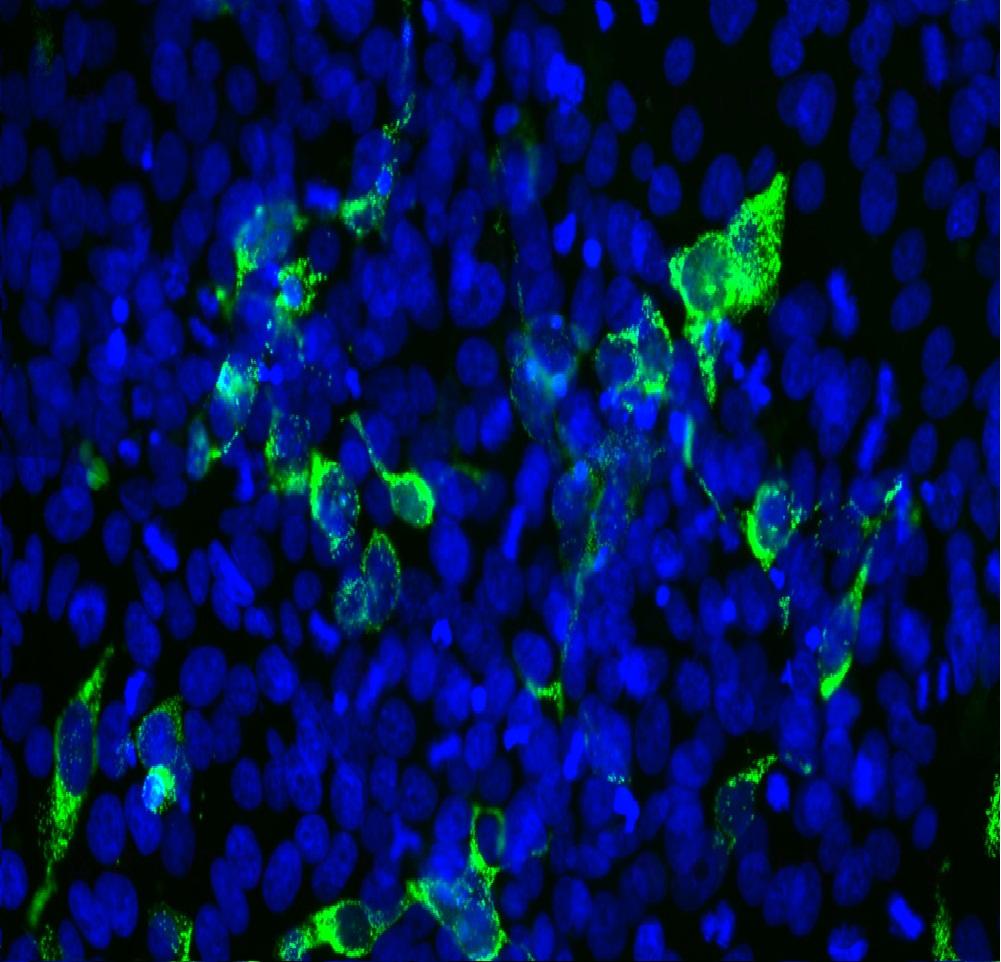 Fig 1:-Cells were transfected with the DNA encoding the S-protein segment in PROT-SARS-CoV2-bd which was inserted in the pCI-Neo-Mod expression vector (5). This antibody produces clean and specific staining of transfected cells which stain identically with RPCA-SARS-CoV2-bd, rabbit polyclonal antibody to the same immunogen. The nuclei of transfected and untransfected cells are shown in blue with DAPI DNA stain.
Roll over image to zoom in
---
| | |
| --- | --- |
| Format : | Purified |
| Amount : | 100 µL |
| Isotype : | IgG1 |
| Content : | Purified antibody at 1mg/mL in 50% PBS, 50% glycerol plus 5mM NaN3 |
| Storage condition : | Shipped on ice. Store at 4°C for short term, for longer term at -20°C. Avoid freeze / thaw cycles. |
| AA sequence : | MHHHHHHSSG LVPRGSGMKE TAAAKFERQH MDSPDLGTDD DDKAMADIGS EFVEKGIYQT 60 SNFRVQPTES IVRFPNITNL CPFGEVFNAT RFASVYAWNR KRISNCVADY SVLYNSASFS 120 TFKCYGVSPT KLNDLCFTNV YADSFVIRGD EVRQIAPGQT GKIADYNYKL PDDFTGCVIA 180 WNSNNLDSKV GGNYNYLYRL FRKSNLKPFE RDISTEIYQA GSTPCNGVEG FNCYFPLQSY 240 GFQPTNGVGY QPYRVVVLSF ELLHAPATVC GPKKSTNLVK NKCVNF 286 |
| | |
| --- | --- |
| | |
| Uniprot ID : | P0DTC2 |
| Immunogen Information : | Recombinant SARS-CoV2 S-Protein ACE2 binding domain expressed in and purified from E. coli. |
Immunofluorescent analysis of transfected HEK293 cells with the SARS-CoV2-bd-construct under high magnification, stained with mouse mAb to SARS-CoV2-bd, dilution 1:1,000, in green. Cells were costained with rabbit pAb to HSP60, RPCA-HSP60, dilution 1:2,000, in red. The blue is Hoechst staining of nuclear DNA. This antibody reveals overexpression of SARS-CoV2-bd protein presumanbly in lysosomes only in transfected cells, while the HSP60 antibody labels mitochondria in all cells.
This antibody was raised against a recombinant construct of the SARS-CoV-2 spike or S-protein which includes the entire region which interacts with ACE2. The specific binding to ACE2 is essential for viral internalization and infection. We designed this construct based on amino acids 308-541 in the S-protein sequence in Isolate Wuhan-Hu-1, complete genome. This is a defined globular domain recently shown to include all of the amino acids necessary for ACE2 binding. The construct was expressed in and purified from E. coli and includes an N-terminal His-tag and other vector derived sequence shown underlined below. Amino acids which interact directly with the ACE2 protein are printed in bold.
WB: 1:1,000-1:2,000. ICC/IF: 1:1,000
For Research Use Only. Not for use in diagnostic/therapeutics procedures.
There are currently no product reviews
---
Customers who purchased this product also purchased