Anti-Actin, Muscle Specific (Muscle Cell Marker) Monoclonal Antibody(Clone: HHF35)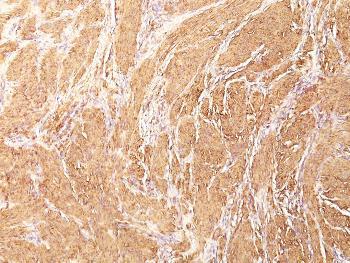 Fig. 1: Formalin-fixed, paraffin-embedded human Leiomyosarcoma stained with Muscle Specific Actin Mouse Monoclonal Antibody (HHF35).
Roll over image to zoom in
---
| | |
| --- | --- |
| Amount : | 100 µg |
| Isotype : | Mouse IgG1, kappa |
| Content : | 200 µg/ml of Ab Purified from Bioreactor Concentrate by Protein A/G. Prepared in 10mM PBS with 0.05% BSA & 0.05% azide. Also available WITHOUT BSA & azide at 1.0mg/ml. |
| Storage condition : | Antibody with azide - store at 2 to 8°C. Antibody without azide - store at -20 to -80°C. Antibody is stable for 24 months. Non-hazardous. |
| | |
| --- | --- |
| | |
| Gene : | ACTA1 (Skeletal); ACTA2 (Smooth); ACTG2 (Smooth) |
| Alternative Name : | ACTA, ACTA1, ACTA2, ACTC1, Actin, ACTSA, Alpha-2 actin, alpha skeletal muscle, Alpha-actin-1, Cardiac muscle alpha actin-1, Skeletal muscle alpha actin-1 |
| Immunogen Information : | SDS extract of human myocardium. |
This antibody recognizes actin of skeletal, cardiac, and smooth muscle cells. It is not reactive with other mesenchymal cells except for myoepithelium. Actin can be resolved on the basis of its isoelectric points into three distinctive components: alpha, beta, and gamma in order of increasing isoelectric point. Anti-muscle specific actin recognizes alpha and gamma isotypes of all muscle groups. Non-muscle cells such as vascular endothelial cells and connective tissues are non-reactive. Also, neoplastic cells of non-muscle-derived tissue such as carcinomas, melanomas, and lymphomas are negative.It stains tumors of smooth muscle (leiomyomas and leiomyosarcomas) as well as skeletal muscle (rhabdomyomas and rhabdomyosarcomas).
Flow Cytometry (0.5-1µg/million cells); Immunofluorescence (0.5-1µg/ml); ,Immunohistochemistry (Formalin-fixed) (0.25-0.5µg/ml for 30 minutes at RT),(Staining of formalin-fixed tissues requires boiling tissue sections in 10mM citrate buffer, pH 6.0, for 10-20 min followed by cooling at RT for 20 minutes),Optimal dilution for a specific application should be determined.
For Research Use Only. Not for use in diagnostic/therapeutics procedures.
There are currently no product reviews
---
Customers who purchased this product also purchased