Anti-C1QA / Complement C1q A-Chain Monoclonal Antibody(Clone: C1QA/2956)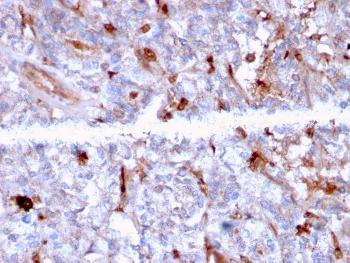 Fig. 1: Formalin-fixed, paraffin-embedded human Kidney stained with C1QA Mouse Monoclonal Antibody (C1QA/2956).
Roll over image to zoom in
---
| | |
| --- | --- |
| Amount : | 100 µg |
| Isotype : | Mouse IgG2b, kappa |
| Content : | 200 µg/ml of Ab Purified from Bioreactor Concentrate by Protein A/G. Prepared in 10mM PBS with 0.05% BSA & 0.05% azide. Also available WITHOUT BSA & azide at 1.0mg/ml. |
| Storage condition : | Antibody with azide - store at 2 to 8°C. Antibody without azide - store at -20 to -80°C. Antibody is stable for 24 months. Non-hazardous. |
C1q, a subcomponent of the classical complement pathway, is composed of nine subunits that mediate classical complement activation and thereby play an important role in the immune response. Six of these subunits are disulfide-linked dimers of chains A and B, while three of these subunits, designated C1q-A throµgh C1q-C, are disulfide-linked dimers of chain C. Each chain contains an N-terminal collagen-like region and a C-terminal C1q globular domain. The presence of receptors for C1q on effector cells modulates its activity, which may be antibody-dependent or independent. Macrophages are the primary source of C1q, while anti-inflammatory drµgs as well as cytokines differentially regulate expression of the mRNA as well as the protein. C1q deficiency is associated with lupus erythematosus and glomerulonephritis.
Immunohistochemistry (Formalin-fixed) (1-2µg/ml for 30 minutes at RT)(Staining of formalin-fixed tissues requires boiling tissue sections in 10mM citrate buffer, pH 6.0, for 10-20 min followed by cooling at RT for 20 minutes)Optimal dilution for a specific application should be determined.
For Research Use Only. Not for use in diagnostic/therapeutics procedures.
There are currently no product reviews
---
Customers who purchased this product also purchased