Anti-CD95 / Fas Monoclonal Antibody (Clone:UT-1)-Azide free(Discontinued)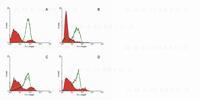 Figure 1: Induction of apoptosis in various hematopoetic cell lines by use of anti-Fas antibodies.Suspensions of used cell lines were incubated with soluble (or without as control) anti-Fas antibodies. Induction of apoptosis was measured by Apoptosis Assay Kit - FITC.Histograms:Red (full) - untreated control cellsBlack - standard apoptosis-inducing anti-Fas antibodyGreen - anti-Fas (UT-1)A - JURKAT human peripheral blood T cell leukemia cell lineB - TF-1 human bone marrow erythroleukemia cell lineC - CEM human leukemia cell lineD - MOLT-4 human acute lymphoblastic T cell leukemia cell line
Roll over image to zoom in ---
| | |
| --- | --- |
| Amount : | 0.1 mg |
| Isotype : | Mouse IgM |
| Purification : | Purified by precipitation and chromatography |
| Storage condition : | Store at 2-8°C. Do not freeze. |
CD95 (Fas, APO-1), a 46 kDa transmembrane glycoprotein, is a cell death receptor of the TNFR superfamily. Stimulation of CD95 results in aggregation of its intracellular death domains, formation of the death-inducing signaling complex (DISC) and activation of caspases. In type I cells caspase 3 is activated by high amounts of caspase 8 generated at the DISC, in type II cells low concentration of caspase 8 activates pathway leading to the release of cytochrome c from mitochondria and activation of caspase 3 by cytochom c. Besides its roles in induction of apoptosis, Fas also triggers pro-inflammatory cytokine responses.
Functional Application The antibody UT-1 induces Fas-mediated apoptosis. Flow Cytometry Recommended dilution:2-10 µg/ml
For Research Use Only. Not for use in diagnostic/therapeutics procedures.
| | |
| --- | --- |
| Subcellular location: | Secreted |
| Post transnational modification: | N- and O-glycosylated. O-glycosylated with core 1 or possibly core 8 glycans. |
| Tissue Specificity: | Isoform 1 and isoform 6 are expressed at equal levels in resting peripheral blood mononuclear cells. After activation there is an increase in isoform 1 and decrease in the levels of isoform 6. |
| BioGrid: | 106851. 107 interactions. |
There are currently no product reviews
---
Customers who purchased this product also purchased