Anti-GST / Glutathione-S-Transferase, GST tag Monoclonal Antibody (Clone:S-tag-05)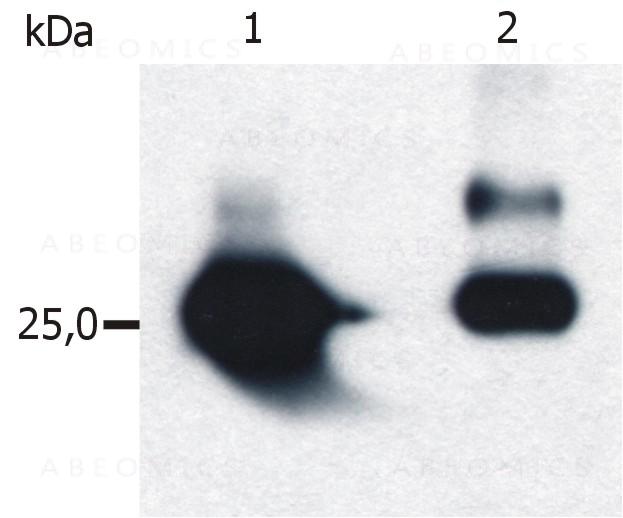 Figure 1: Isolation of Glutathione-S-Transferase (GST) overexpressed in E. coli.Western blot was immunostained by anti-GST (S-tag-05). Lane 1: affinity purification of GST from bacterial cell lysate using commercial sorbent Glutathione-Sepharose. Lane 2: affinity purification of GST from bacterial cell lysate using immunosorbent prepared from anti-GST (S-tag-02; )
Roll over image to zoom in
---
| | |
| --- | --- |
| Format : | Purified |
| Amount : | 0.1 mg |
| Isotype : | Mouse IgG2b |
| Purification : | Purified by protein-A affinity chromatography |
| Storage condition : | Store at 2-8°C. Do not freeze. |
| | |
| --- | --- |
| | |
| Immunogen Information : | GST fusion protein |
The GST (Glutathione-S-Transferase) is a 26kDa protein encoded by the parasite Schistosoma japonicum, easily purified by affinity chromatography on immobilized glutathione. GST is utilized as a fusion protein with foreign proteins in a range of prokaryotic expression vectors, including the pGEX family of vectors. Antibodies against GST will detect the expressed GST protein or a GST-fusion protein, and can be utilized for immuno-purification of GST-fusion proteins.
Western Blotting Recommended dilution: 1 µg/ml
Positive control: GST fusion protein
For Research Use Only. Not for use in diagnostic/therapeutics procedures.
There are currently no product reviews
---
Customers who purchased this product also purchased