Anti-Human LAR PE (Clone : W7C6)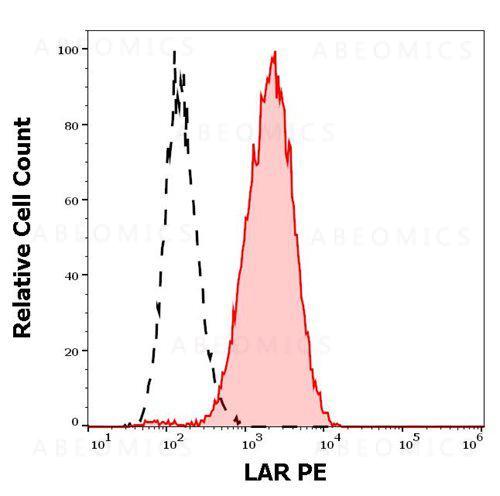 Figure 1 : Separation of HeLa cells stained using anti-human LAR (W7C6) PE antibody (concentration in sample 0,5 µg/ml, red-filled) from HeLa cells stained using mouse IgG1 isotype control (MOPC-21) PE antibody (concentration in sample 0,5 µg/ml, black-dashed) in flow cytometry analysis (surface staining) of HeLa cell suspension.
Roll over image to zoom in
---
Amount :
0.1 mg
Isotype :
Mouse IgG1
Purification :
The purified antibody is conjugated with R-phycoerythrin (PE) under optimum conditions. The conjugate is purified by size-exclusion chromatography.
Content :
0.1 mg/ml
Formulation : Stabilizing phosphate buffered saline (PBS) solution containing 15 mM sodium azide
Storage condition :
Store in the dark at 2-8°C. Do not freeze. Avoid prolonged exposure to light.
| | |
| --- | --- |
| | |
| Gene : | PTPRF |
| Gene ID : | 5792 |
| Alternative Name : | Leucocyte common antigen related molecule, PTPRF, W7C6,protein tyrosine phosphatase receptor type F |
| Immunogen Information : | WERI-RB-1 retinoblastoma cells |
LAR is a receptore-linked transmembrane protein tyrosine phosphatase expressed on mesenchymal stem cells, that reside e.g. in bone marrow, blood, placenta, adipose tissue, or skin, as well as it is expressed on some carcinoma cell lines, including HeLa, MCF-7, or HT29. During the process of externalization, LAR is intracellularly proteolytically processed into two non-covalently associated subunits. This protein is involved in intercellular and cell-matrix interactions and its extracellular part resembles that of cell adhesion molecules (CAMs). The extracellular part can be released from the surface, which may be used for regulation of LAR function.
Specificity : The mouse monoclonal antibody W7C6 recognizes an extracellular epitope of protein tyrosine phosphatase LAR, a marker of mesenchymal stem cells.
There are currently no product reviews
---
Customers who purchased this product also purchased