Anti-MAML2 (Mastermind Like Transcriptional Coactivator 2) Monoclonal Antibody(Clone: MAML2/1302)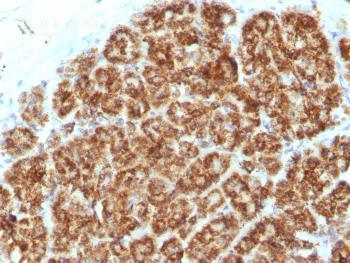 Fig. 1: Formalin-fixed, paraffin-embedded human Pancreas stained with MAML2 Monoclonal Antibody (MAML2/1302).
Roll over image to zoom in
---
| | |
| --- | --- |
| Amount : | 100 µg |
| Isotype : | Mouse IgG2a, kappa |
| Content : | 200 µg/ml of Ab Purified from Bioreactor Concentrate by Protein A/G. Prepared in 10mM PBS with 0.05% BSA & 0.05% azide. Also available WITHOUT BSA & azide at 1.0mg/ml. |
| Storage condition : | Antibody with azide - store at 2 to 8°C. Antibody without azide - store at -20 to -80°C. Antibody is stable for 24 months. Non-hazardous. |
MAML2 (mastermind-like protein 2), also known as MAM2, MAM3 or MLLMAML2, is a nuclear speckle protein that acts as a transcriptional co-activator for Notch receptors. The Notch signaling pathway influences cell fate by regulating the ability of precursor cells to properly respond to developmental signals. MAML2 is a member of the mastermind-like family of proteins that are human homologs of the Drosophila melanogaster mastermind protein. Throµgh its N-terminal region, MAML2 interacts with the ankyrin repeats of the Notch proteins Notch 1, Notch 2, Notch 3 and Notch 4. This interaction leads to formation of a DNA-binding complex with the Notch proteins and RBP-J a complex that can then induce HES1 gene expression. While the N-terminal domain of MAML2 is essential for proper Notch binding, the C-terminal domain of MAML2 is essential for transcriptional activation. A chromosomal aberration involving the gene encoding MAML2 is implicated in mucoepidermoid carcinomas, clear cell hidradenomas and benign Warthin tumors.
Flow Cytometry (0.5-1µg/million cells); Immunofluorescence (0.5-1µg/ml); Western Blot (0.5-1µg/ml); Immunohistochemistry (Formalin-fixed) (0.5-1.0µg/ml for 30 minutes at RT)(Staining of formalin-fixed tissues is enhanced by boiling tissue sections in 10mM Tris with 1mM EDTA, pH 9.0 for 10-20 min followed by cooling at RT for 20 minutes)Optimal dilution for a specific application should be determined.
For Research Use Only. Not for use in diagnostic/therapeutics procedures.
There are currently no product reviews
---
Customers who purchased this product also purchased